TUESDAY 10 NOVEMBER 09
open keyboard
PIANO NIGHT
new art on the far wall
STEFAN ROMAN
HARD SHOULDER
Vistas and architecture drafted from the point of view of a truck driver. Images that flit by day to day in random fashion, individually caught, captured, distilled and processed in large scale drawings.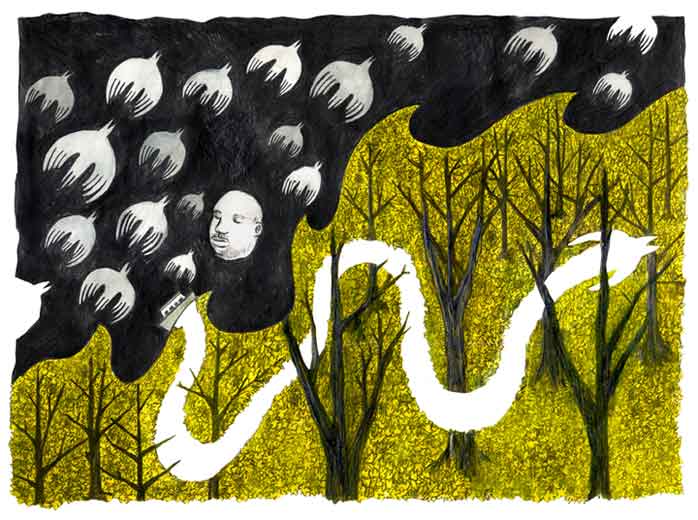 new art in the library
CHRISTOPHER RAINBOW
The Cave Wall Sings at The Foundry "This series of works emanates from an extensive period of visits to asylum seekers held in remand at Harmondsworth Immigration Detention Centre, near Heathrow. The plight of Daniel, a Nigerian detainee fleeing the murderous tendrils of an influential cult, the Ogboni struck a particularly powerful chord. Over months of visits, I was witnessed and shared his fears, crises and friendship as he confronted the dual threats of potential harm through extradition back into his persecutors' hands and the boredom and brutalisation on incarceration in the UK. From creating reportage comic strips and illustration documenting my relationship with Daniel, I have increasingly found myself imagining and visualising his dream, fantasies and memories. This sets up an intriguing paradox - as I try to understand the situation through his eyes by means of creative exploration, I start to create my own fiction." Christopher Rainbow is an artist / illustrator exploring narrative strands through drawing, collage and mural. He is a regular contributor to Blueprint magazine and illustration commissions include works for Lex records, BBC Collective and Barbican. Following a mis-spent youth spent running riot with a spray can in a sleepy seaside town with compadres The Pugilist and Neon Noodle; he formed the Ziko collective with Matt Littler. Their artwork can be seen at www.zikotown.com. By night, he runs howling through the streets of London with a pack of foxes.
WEDNESDAY 11 NOVEMBER 09
art event in the basement...
ALZIRA - AIDEN MARK - TOBIAS SCHMIDTT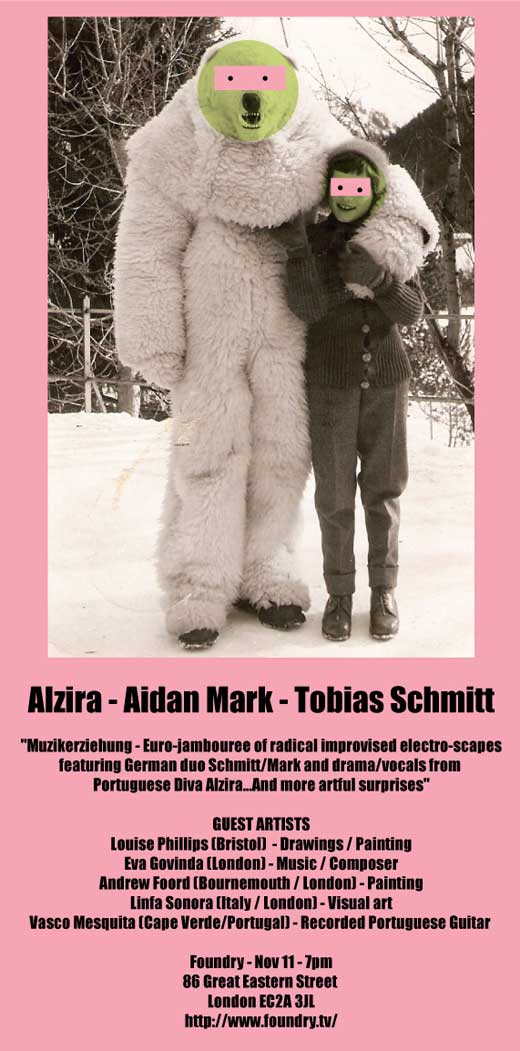 new art in the vaults
ST & ST
St. & St. St. & St. is the project name of the two collaborating artists
STEPHAN HALTER AND STEPHANIE GERNER
. Both were born 1977 in Germany. They live and work in Berlin. In their work they explore hierarchic systems, supervision and standardization as well as stereotypical thinking. For that reason they don't confine themselves to a certain technique or media and always integrate the room as part of their work.
THURSDAY 12 NOVEMBER 09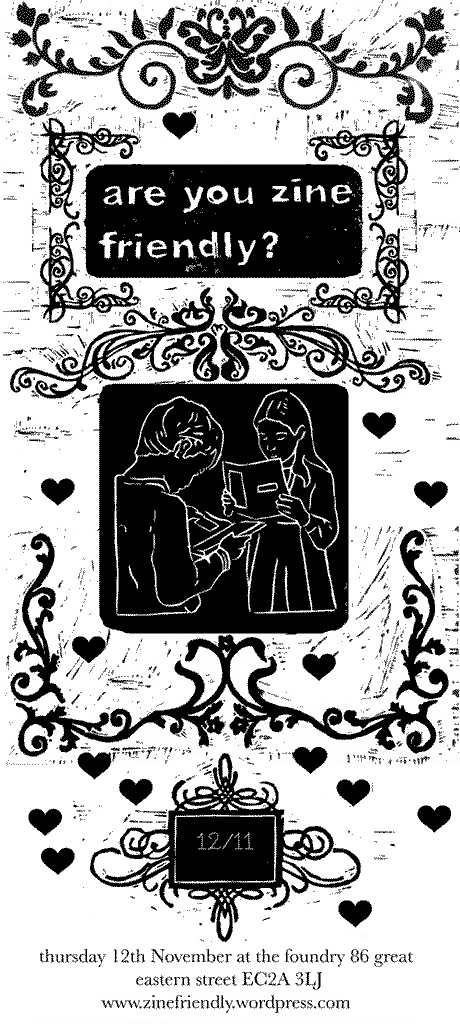 are you ZINE FRIENDLY?
Alternative Press are hosting another awesome evening of Zines, comix, book arts and poetry at our second Zine Friendly event at the foundry, in order to promote our new project, the Zine Friendly Blog! A resource for self-publishers far and wide, it will list venues, promoters, stockists and events that are all "Zine Friendly"! We are inviting small pressers everywhere to come down and promote their own work. For free! All we are asking is that people donate what they can, even a zine or two, to help Alternative Press to keep promoting the scene. There will be communal tables where self publishers can sell their work. Printmakers or those with large work are encouraged to use the walls as a spontaneous temporary free arts space where you can stick up your work DIY style! BYOB (Bring Your Own Blu-tak!) Also, we are inviting some zine distributors to represent as much of what is going on in the scene as we can. We'll be having a cake sale with free tea, Knitting Circle, CD compilation lucky dip (just bring a cd of your own favourite music and take your pick!), free blank zines for you to use and a poetry workshop followed by some performances and a short open mic... Things will kick off at 7pm until around 11pm.
SATURDAY 14 NOVEMBER 09
UGLYFUNK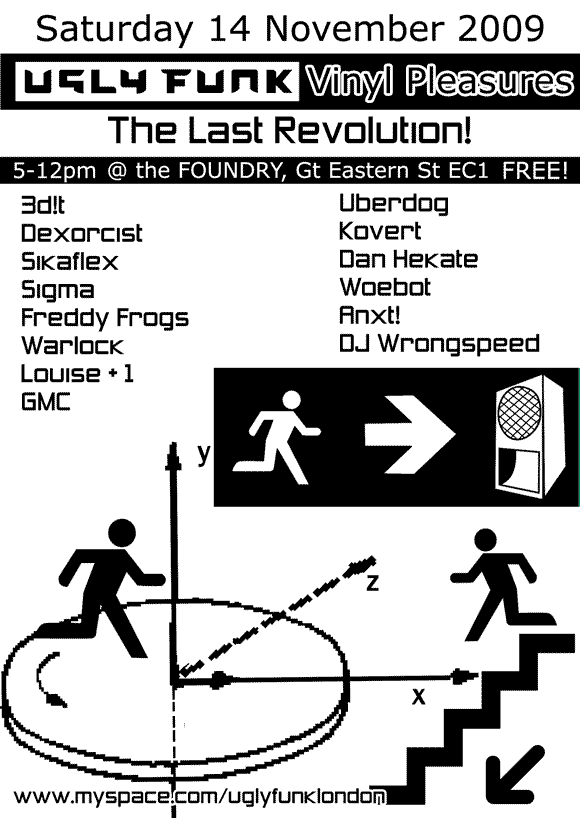 SUNDAY 15 NOVEMBER 09
bar floor
FLYING CABERET
Flying Cabaret with the wonderful Andrew Bailey, NOW, Roshi Ft Pars Radio and Rude Mechanicals. Also DJ sets from Pete Stormcrow and a resident naked man awaiting your suggestions (post them to the link - missroberts@yahoo.co.uk). Starts 6pm, Free. basement
AMPERSAND
=with= VULTURES WINTERMUTENOISE RYAN JORDAN GRAPH
TUESDAY 17 NOVEMBER 09
open keyboard
PIANO NIGHT
new art in the basement
SCRATCH ATTITUDE
new art in the library
DEVYANI PARMER
new art on the bar wall
KOBUS
new art in the vaults
EVI LEMBERGER
Ein Nichtort, or The Fairy Tale About the Galoshes of Fortune Photographs from Transcarpathia "Home is a Nonplace. Home is an utopia. You can experience in the most intense way, if you are away and you miss it; the actual homefeeling is the homesickness. And even if you are not away, the homefeeling nourishes itself out of the missing, out of that, which does not anymore or not just yet exist. Because the memory and the longing are turning places into homes."
http://evilemberger.co.uk

WEDNESDAY 18 NOVEMBER 09
new art in the stair well
MANU
with incidental musical entertainment from DISCO_R.DANCE
THURSDAY 19 NOVEMBER 09
new art in the library
DEVYANI PARMAR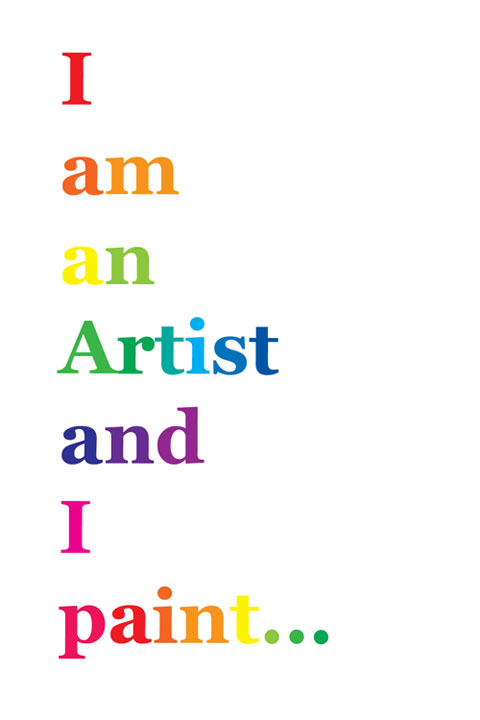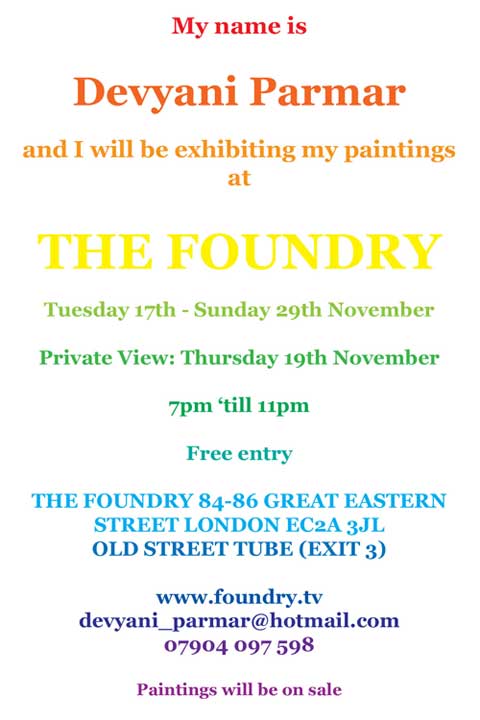 SATURDAY 21 NOVEMBER 09
art opening in the basement
SCRATCH ATTITUDE
SUNDAY 22 NOVEMBER 09
performance art in the basement
GREG CHARLTON
Musically influenced visual art All are invited to take part in this free event taking part in the basement of the Foundry on Sunday the 22nd of November, 6:30 start. The idea is that live musicians play and visual artists respond directly to the music. There will be several performances. Please bring your own materials. Any questions please contact grogc@hotmail.co.uk
TUESDAY 24 NOVEMBER 09
new art in the vaults
ALEXANDER PIERRE
new art on the far wall
FRANCIS MEDINA
new art in the big room
LAURIE, RACHEL et al
new art on the bar wall
ELINE VAN DEN BOOGAARD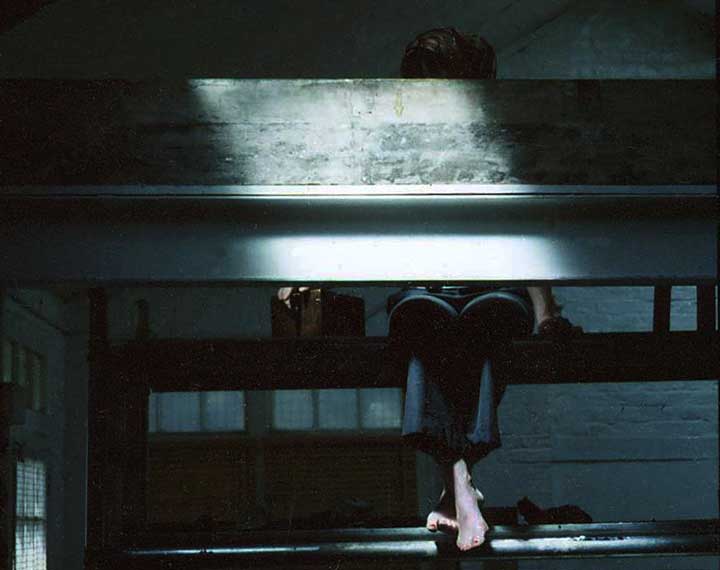 new art on the stair well
REFOCUS
We are refocus, a grass roots organisation and part of the Photovoice network projects. We run participatory photography workshops training minority groups and have recently returned from Damascus, Syria after completing our second project in collaboration with UNICEF and are now in the UK planning the exhibition. For more information about refocus please look at
http://www.refocusproject.com/index.htm
In our recent project we worked with 24 Iraqi, Palestinian and Syrian youth. The course used photography to encourage self expression focusing on the subjects of integration, rights and gender equality. The following link shows the participant's profiles and some of their images.
http://www.refocusproject.com/home.php
After six weeks of training they produced an exhibition of 48 photographs. The exhibition was named 'Bridging the Gap' and was exhibited in Damascus to organisations that are now developing the participants further, tackling the issues raised by the participants in order to advocate necessary change. Please contact us if you have any queries via email or call Amy on 0777 972 9776 or refocusproject@gmail.com
SUNDAY 29 NOVEMBER 09
WELCOME TO WORMWORLD open mic poetry
TUESDAY 1 DECEMBER 09
new art on the stair well
MORAG
new art on the far wall
SOPHIE COPAGE
new art in the vaults
ANGELA EDWARDS
01/12/09 - 06/12/09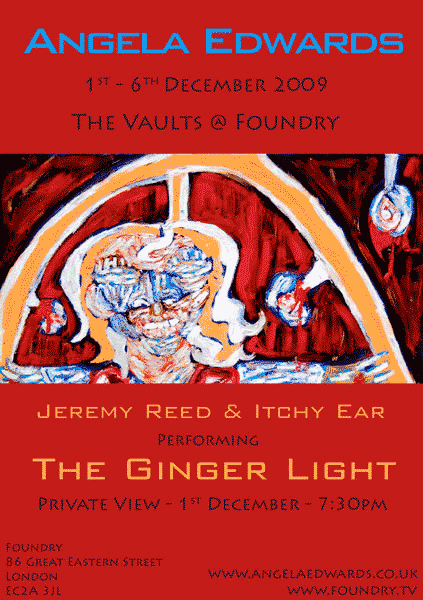 "Horror. Horror has a face ... and you must make a friend of horror. Horror and moral terror are your friends. If they are not then they are enemies to be feared . They are truly enemies." Angela Edwards lives and works in London. She has painted over 150 canvases. This show follows her first solo warehouse exhibition, held in Slough in 2008.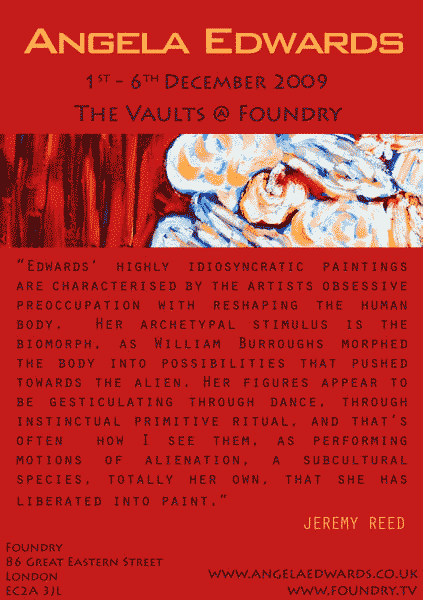 TUESDAY 1 DECEMBER 09
new art in on the bar wall
HELENA LACKZO
WEDNESDAY 2 DECEMBER 09
new art in the library
DENNIS WALKER
opening night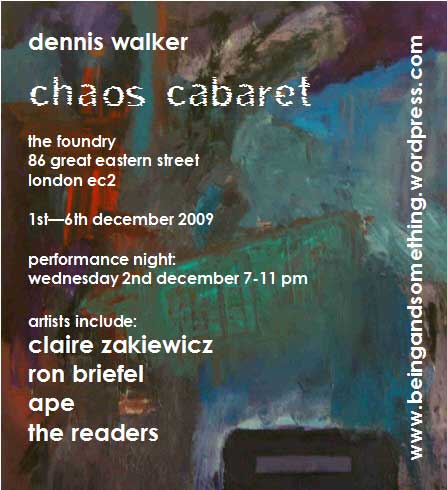 http://www.beingandsomething.wordpress.com
THURSDAY 3 DECEMBER 09
new art in the pink room
SARAH NIELSEN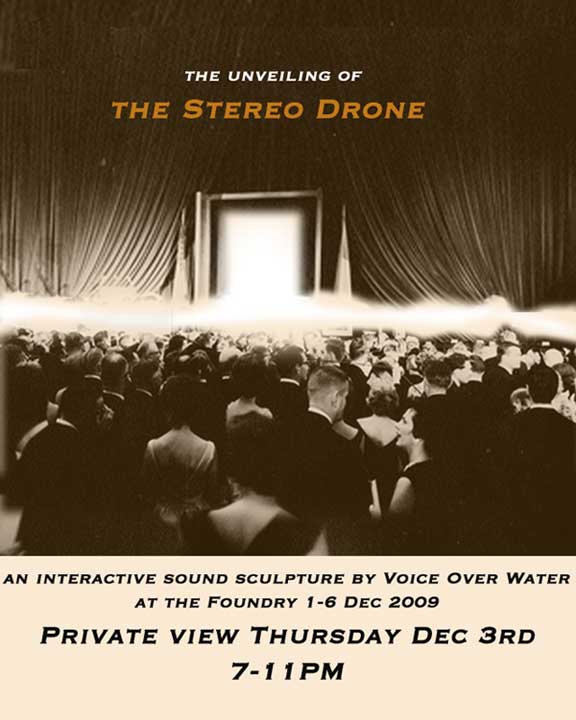 opening night
THURSDAY 10 DECEMBER 09
art event in the basement
PROVO, AUTONOMY, AND LUDIC POLITICS
The legendary Dutch anarchist movement Provo staged political and cultural interventions into the symbolic and everyday spaces of Holland from 1965 - 1967. The rise and fall of Provo stretches from early Dutch "happenings" staged in 1962 to the "Death of Provo" in 1967. Although a small group they cast a disproportionately large shadow on the events of the time due to their skillful analysis of social unrest among Dutch youth. By tying their political program to the rich magical heritage of Amsterdam's bohemian subculture they created political street theater that captured the pulse of Amsterdam's population. Come join us to celebrate the release of Provo: Amsterdm's Anarchist Revolt by Richard Kempton, the first book length English history and analysis of Provo. We will be joined by several of the members of Provo including Hans Plomp, Auke Boersma, Luud Schimmelpennink and Nico van Apeldoorn. We will explore the history and activities of Provo, tracing out their legacies and continuing influence in the realm of autonomist politics and ludic interventions in public space.
_ _ ...check back later for more info!
  84-86 GREAT EASTERN STREET LONDON EC2 020 7739 6900