TUESDAY 21 JULY 09
new art on the far wall
MARK OBSTFELD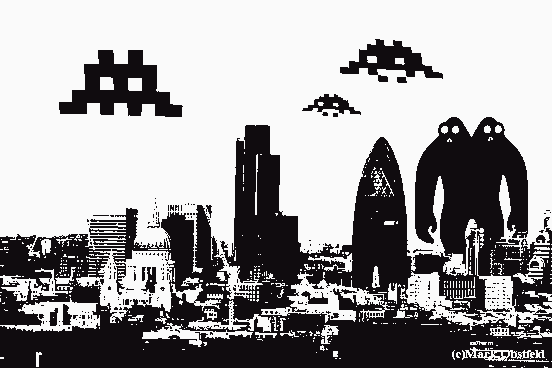 Some years of late night experiments with the images I collect in everyday life, these are a few of the results- the flipside of my work as a photographer. Originally inspired by the street art around Shoreditch before I ever lived here, I started to play with photos of grafitti and got more and more involved. Inspired also by the moment of wakefulness from sleep, when slivers of dream still remain in the mind, and with tongue planted very firmly in cheek, these are some results from hours of intense photoshopping. From overseas trips to the asphalt of London town, anything is a potential piece of art- once the idea forms, I am only limited by my own abilities. Everything displayed originally comes from a photograph.
THURSDAY 23 JULY 09
new art in the vaults...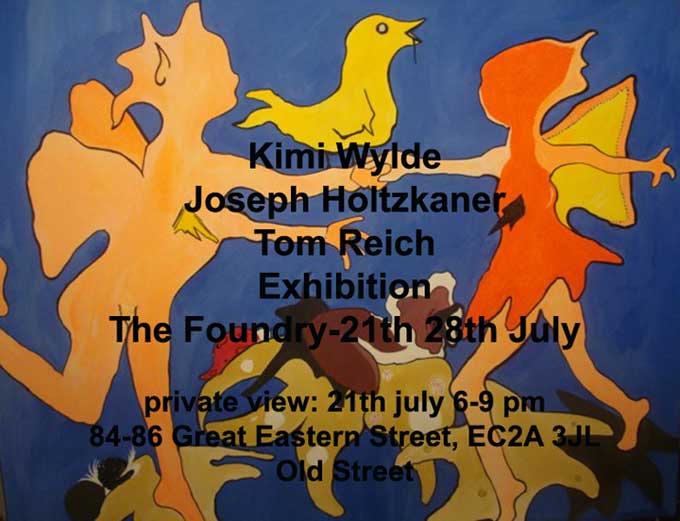 SUNDAY 26 JULY 09
WELCOME TO WORMWORLD
open mic poetry sign up by 8pm perform 8.30-9.30pm one-day exhibition in the basement...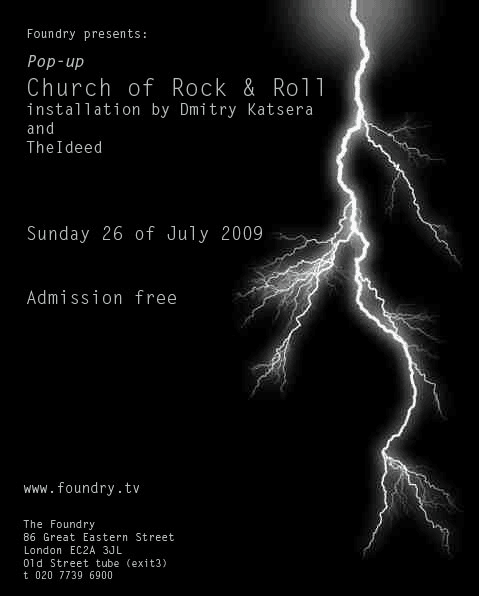 TUESDAY 28 JULY 09
new art in the vaults
NICHOLA LE SEUER
new art in the library
BRADFORD BAHAMAS
new art on the bar wall
HATTIE MURRAY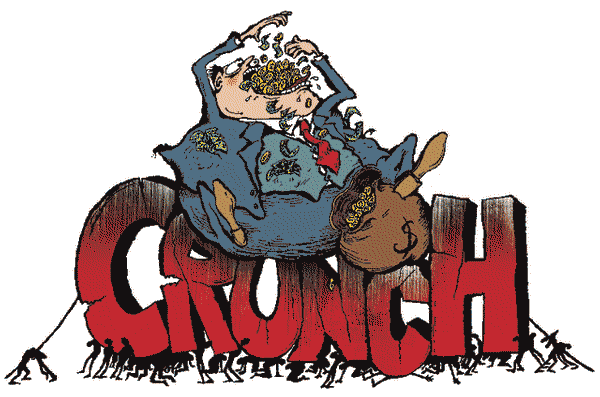 TerrorBull Games presents the launch of 'Crunch - The Game for Utter Bankers'. Their notorious first release, 'War on Terror, the boardgame', was banned from the high street, branded 'sick' by the press and confiscated by the police. Now designers Andy Tompkins and Andrew Sheerin, together with illustrator Tom Morgan-Jones, are launching 'Crunch' to mark the collapse of our beloved financial system - and where better to celebrate than in the basement of a former bank? There will be games, prizes and plenty of extravagant waste. Come along and discover the up-side of the downturn. Music will be provided by DJ Paedophile Stepdad.
http://www.crunchthecardgame.com/
FRIDAY 31 JULY 09
12-1PM tune in to...
THE FOUNDRY LATE LATE BREAKFAST SHOW
broadcast live on RESONANCE 104.4FM streamed live on
http://www.resonancefm.com
archives on
http://www.sanderswood.com/radio/
music by
GAGGLE
A unique gaggle of 22 girls that sing songs about crows. Although they look like something you might stumble upon in a back room in Persia 1946, they have actually just flown from their fourth concert and are a breath of fresh squawks in these days of formatted music.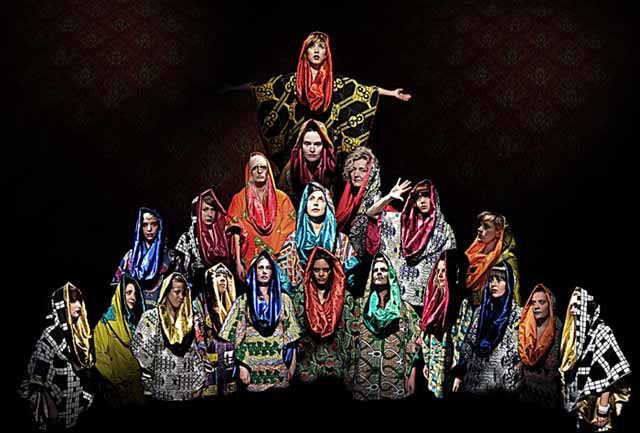 SATURDAY 01 AUGUST 09
SLOW SOUND SYSTEM AND HIGHPOINT LOWLIFE RECORDS 6-11pm. Free entry Highpoint Lowlife records and the slow sound system take over upstairs at the Foundry this Saturday. On offer: future garage and bass explorations from the anonymous and hotly-tipped Spatial (infrasonics), plus jazz, Middle Eastern modes, electro-accoustics and ambient minimalism from John Farah (Dross:tik), worked out in real time on the Foundry's grand piano. HPLL and slow sound system DJs fill in the gaps.
http://www.highpointlowlife.com
http://www.slowoundsystem.net
------------------------------ ABOUT THE ARTISTS ------------------------------ ------- SPATIAL 'Exceptional post-Burial/future-garage productions ... '80207' is an absolutely killer slice of crisp and spacious garage dub progressions, sounding like the perfect union of Andy Stott's techno dub fixation crossbred with Burial's swung patterns and 2562's chrome plated production gloss, but adds old skool rave strafes and some cybotronic mechanics of his own for a truly shocking cut. The flipside numbered '70810' rewrites the formula even further. Starting with a El-B fashioned rhythmic framework, Spatial reinforces the rhythm with slashing brushstrokes to remove any unneccessary beats, and douses the whole thing with a ghostly atmosphere reminiscent of Burial or Andy Stott's finest. It's either the end of a vintage year for garage futurisms or the start of a very promising 2009, either way, this is just awesome.' Boomkat
http://www.infrasonics.net
http://www.last.fm/music/Spatial
-------------------------------- JOHN KAMEEL FARAH Free improvisation, jazz, electrođacoustics, Middle Eastern modes and ambient minimalism mixed up with drum&bass and techno. Halfway between the concert hall and the decks ... John Kameel Farah is a Torontođbased composer, pianist, electronic musician and visual artist. He studied composition and piano performance at the University of Toronto.╩ In 1999 he studied privately with Terry Riley in California. Farah performs regularly in Toronto, and has performed his music at festivals and venues across Europe, USA, Canada, the MiddleđEast, South Korea and Mexico. In 1999 and 2002, he visited the Edward Said National Conservatory in the West Bank, giving performances and masterclasses in Ramallah, East Jerusalem and Bethlehem. TorontoŇs NOW Magazine distinguished him as its Best Pianist of 2006. In 2007 he was the visual artist in residence at the Trane Studio in Toronto. 'His work speaks of the ancient past and unperceivable future, the micro and the macro, antibodies and heavenly bodies and astral bodies...' Montreal Mirror
http://www.johnfarah.com
http://www.myspace.com/jkfarah
http://www.last.fm/music/john+farah
----------------- SLOW SOUND SYSTEM New electronica, soundscaping and relaxed audio. Lie down and be counted. 'Quality avant chillage' BBCi 'Unadulterated bliss' Resonance FM
http://www.slowsoundsystem.net
------------------------- HIGHPOINT LOWLIFE RECORDS We are a London based record label enthused about all forms of new sound. Our releases range from glacial drone and engulfing digital sprawls through to half-step bass heavy hip hop, head nodding distorted noise, and anything else that doesnŇt sound quite right!
http://www.highpointlowlife.com
NOISE=NOISE
computer workshops
SUNDAY 02 AUGUST 09
REELNEWS
activist film screenings
TUESDAY 04 AUGUST 09
new art in the library
SHESH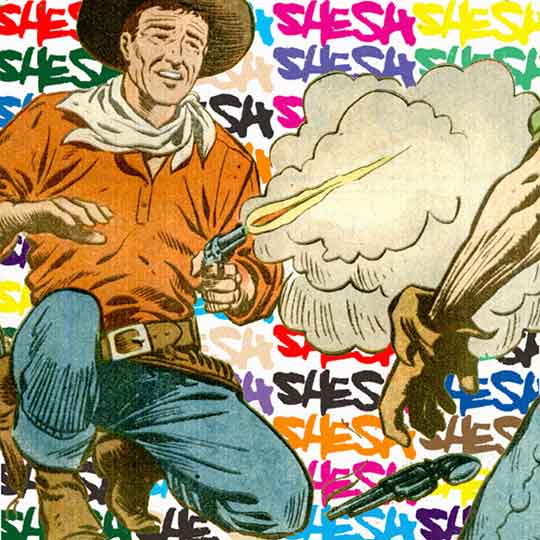 From music to fashion to visual arts, shesh spreads his message fusing and flipping several mediums including music, fashion and visual arts.? Taking inspiration from a wide variety or sources such as 1950s & 60s advertising, musical imagery, iconography & celebrity and comic book culture, the work examines the links between fashion, advertising, and urban graffiti art, all striving to be get fame with a view to being ubiquitous. In questioning and subverting the idea of fashion and branding, the work itself becomes the very subject matter it references. "Basically I like writing my name loads of times..." new art on the far wall
JENNIFER
NEW PAINTINGS (until 16 August)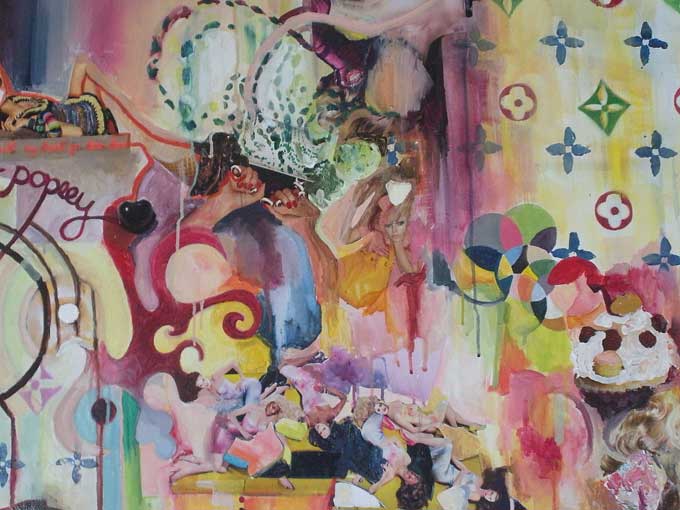 Intrigued by the glossy and alluring nature of high fashion and beauty advertising, and by society's embrace of this unattainableŠideal, I respond with a series of paintings inspired by these images. I simultaneously build and deconstruct these icons of perfection through the layering of paint, using the original photograph as the starting point, but deviating from it with abandon. While some details from the photograph are emulated, most others dissolve into chaotic and bold abstraction. My paintings are a journey away from the illusion of perfection, allowing the viewer to see what's not supposed to be seen.
http://www.jenniferlouise.weebly.com
opening night Thursday 6 August
WEDNESDAY 05 AUGUST 09
computer workshop in the basement
FACTORY
THURSDAY 06 AUGUST 09
new art in the vaults
MARTA KAPUSCIK - drawings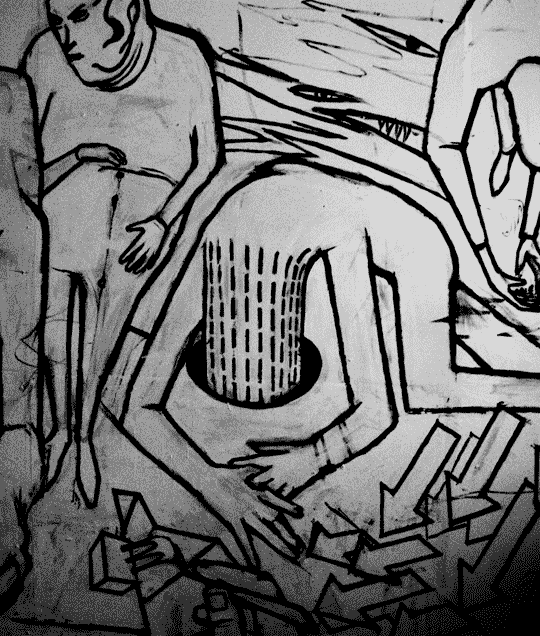 SUNDAY 09 AUGUST 09
>> basement
EVER ORCHID
artist performance
TUESDAY 11 AUGUST 09
open keyboard
PIANO NIGHT
if you have a tune, just turn up and play New art on the bar wall
ADRIAN MARS
New art in the vaults
ARIN SHIRATORA
New art on the stair well
CAT ROISSETTIER
poetry in the basement
OPENNED
Featuring: Harry Gilonis Chris Goode Dominic Lash Josh Robinson Tom Jenks Francesca Lisette Luke Roberts
WEDNESDAY 12 AUGUST 09
computer workshop in the basement
FACTORY
TUESDAY 18 AUGUST 09
open keyboard
PIANO NIGHT
if you have a tune, just turn up and play New art on the far wall
MEIKO KOKUTA
New art in the vaults...
ST╔PHANIE BUSSON
|
SABINE JAMME
Opening on Thursday 20 August at 7.00pm with maybe a performance
http://www.lhistoiredeloeil.co.uk
http://sameplayer.free.fr
WEDNESDAY 19 AUGUST 09
computer workshop in the basement
FACTORY
TUESDAY 25 AUGUST 09
open keyboard
PIANO NIGHT
if you have a tune, just turn up and play New art in the library
ALLEGRA EMANUELLA
New art in the vaults
HANNAH SHARPE
WEDNESDAY 26 AUGUST 09
computer workshop in the basement
FACTORY
new art on the bar wall
SIMON MACK
opening night
THURSDAY 27 AUGUST 09
new art in the basement
NURIA ALVAREZ
SUNDAY 31 AUGUST 09
WELCOME TO WORMWORLD
open mic poetry sign up by 8pm perform 8.30-9.30pm
_ _ ...check back later for more info!
  84-86 GREAT EASTERN STREET LONDON EC2 020 7739 6900