TUESDAY 9 JUNE 09
new art in the vaults...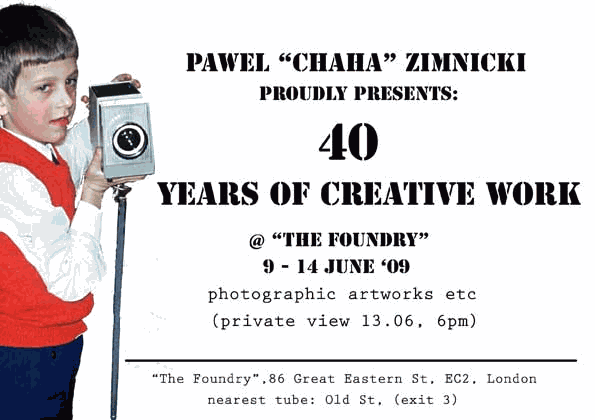 THURSDAY 11 JUNE 09
>>basement 7pm
RUSSIAN SPIRIT RETURNS
Russian Contemporary Poster Exhibition Opening night Thursday June 11th 2009 7pm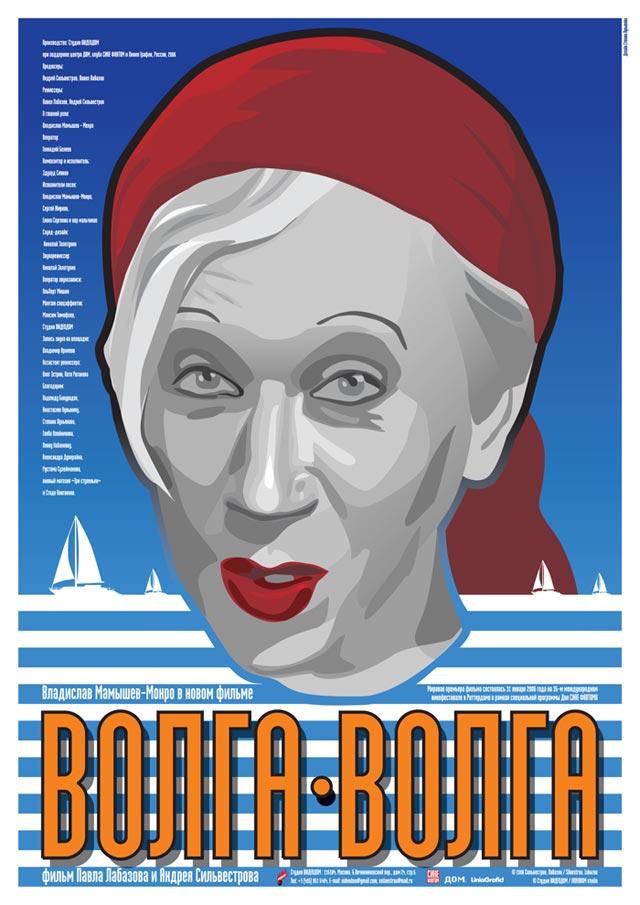 Featuring Jaime Rory Lucy's Rucksack Cinema a film by Daisy Asquith posters by: Igor Gurovich Anya Naumove Erik Belousov Marking the opening of
THE SIBERIAN KANSK FESTIVAL
Genesis Cinema, Whitechapel 12-14th June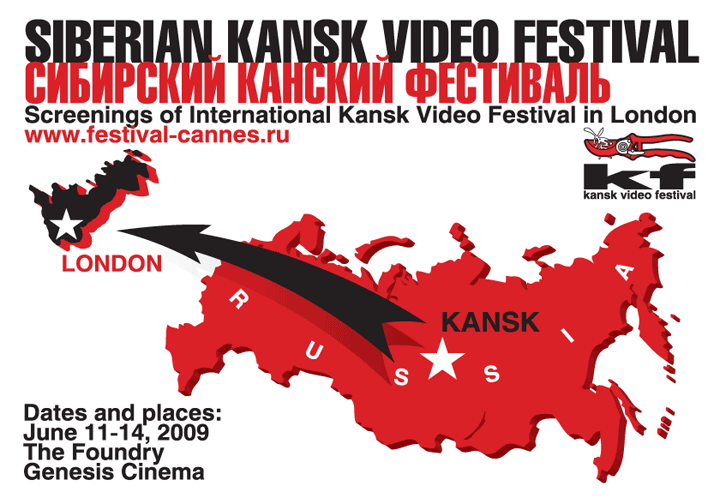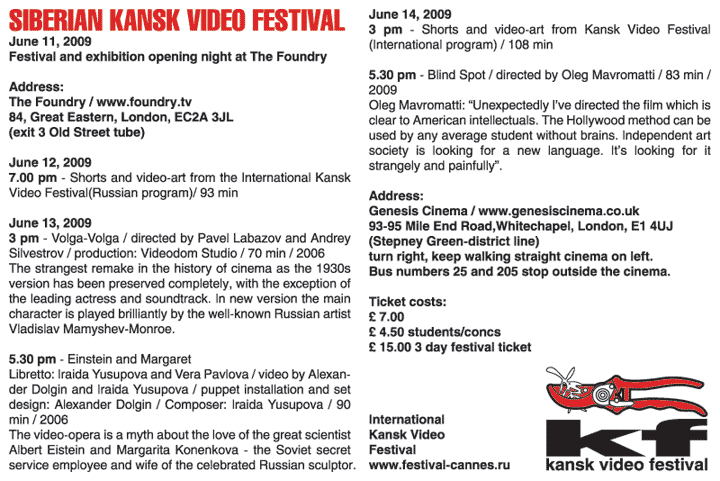 full program download (pdf)
TUESDAY 16 JUNE 09
new art in the stair well
KUMBO
photografer and digital artist The magic of shapes and colours Fantasy and Reality melt together to create Magic
http://www.myspace.com/peppecumbo
new art in the vaults
SOLSTICE IN THE VAULTS
16th till 21st June Visual and musical events, maybe more... Yes, more than that, mysteries of earth and water beneath the Foundry Vaults may finally be revealed to those who either choose to be or merely find themselves present. Be prepared to witness a cosmic struggle between the spirit of the solstice, re-interpreted today, and the shades of the sharp-toothed banking executives who for a brief period controlled this otherwise astonishing space. Should you decide to come, PLEASE don't forget to: 1} pack your toothbrush, 2} choose to choose, 3} bring your granny, or at least let her know where you are going, 4} anticipate the annihilation of the expected. Further details may follow. Davidovich Stardog von Solstice
WEDNESDAY 17 JUNE 09
new art in the library
KATE THEODORE
opening night
WEDNESDAY 24 JUNE 09
new art on the far wall
GREG CHARLTON
SUNDAY 28 JUNE 09
WELCOME TO WORMWORLD
open mic poetry >> basement
JOHN HARRIS
talk 6pm
http://www.tpuc.org/
WEDNESDAY 03 JULY 09
new art in the vaults...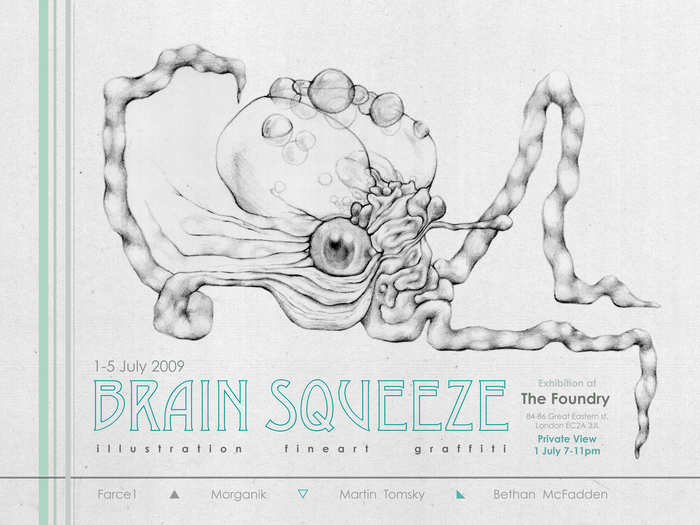 BRAINSQUEEZE
ILLUSTRATION FINE ART GRAFFITI FARCEL MORGANIK MARTIN TOMSKY BETHAN MCFADDEN
TUESDAY 14 JULY 09
new art on the bar wall
EVA LIS
FRIDAY 17 JULY 09
12-1PM tune in to...
THE FOUNDRY LATE LATE BREAKFAST SHOW
broadcast live on RESONANCE 104.4FM streamed live on
http://www.resonancefm.com
archives on
http://www.sanderswood.com/radio/
music by
THEO J&Oumi;RGENSMANN
with
SHABAKA
and
NOEL TAYLOR

The German musician Theo J&oumi;rgensmann is an outstanding free jazz clarinetist, making his first ever appearances in the UK during his long and distinguished career. Following on from his July 13th gig at Leytonstone Festival and close on the heels of his July 16th set at Cafe Oto, The Late Breakfast Show will feature him playing with two British clarinet players - Shabaka Hutchings and Noel Taylor.
TUESDAY 04 AUGUST 09
JENNIFER
NEW PAINTINGS (until 16 August)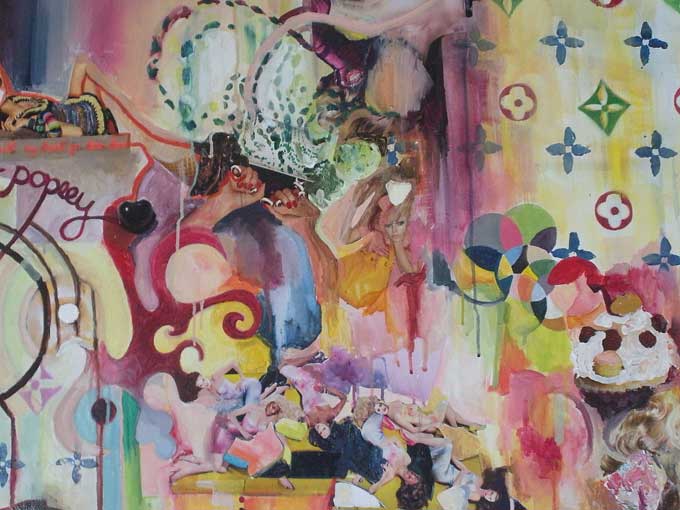 Intrigued by the glossy and alluring nature of high fashion and beauty advertising, and by society's embrace of this unattainable ideal, I respond with a series of paintings inspired by these images. I simultaneously build and deconstruct these icons of perfection through the layering of paint, using the original photograph as the starting point, but deviating from it with abandon. While some details from the photograph are emulated, most others dissolve into chaotic and bold abstraction. My paintings are a journey away from the illusion of perfection, allowing the viewer to see what's not supposed to be seen.
http://www.jenniferlouise.weebly.com
opening night Thursday 6 August
_ _ ...check back later for more info!
  84-86 GREAT EASTERN STREET LONDON EC2 020 7739 6900