TUESDAY 17 MARCH 09
open keyboard
PIANO NIGHT
new art on the far wall
CLUSTER FITS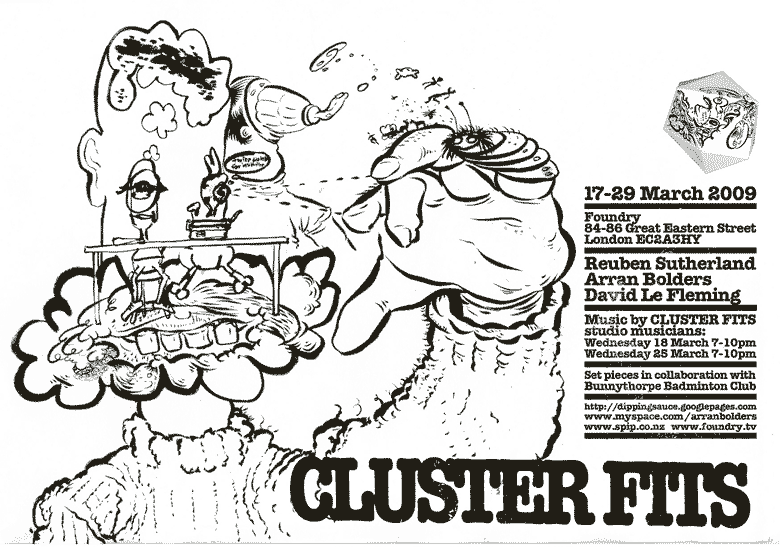 The premise behind this show is a joint process called 'sketch jaming' whereby participants take turns in adding to a drawing. The main wall behind the boy scout trestles will be filled in by the CLUSTER FITS feature artists using the same process. Through the duration of the exhibition, we'd like to encourage Foundry patrons to participate in the 'sketch jam' fun. Paper will be supplied, byo pen or pencil. Group Exhibition:
REUBEN SUTHERLAND ARRAN BOLDERS DAVID LE FLEMING
new art on the stair well
PRIM and ROSE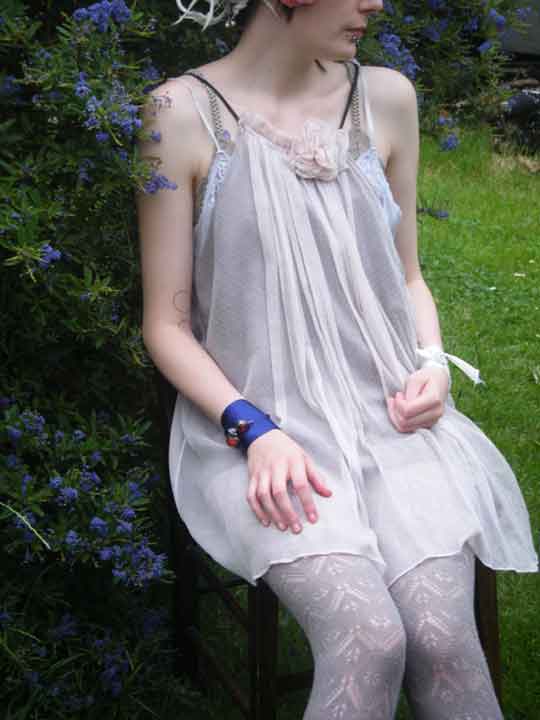 photography by
JESSICA JANE CHARLESTON
>>basement 6-10pm
TOUGH!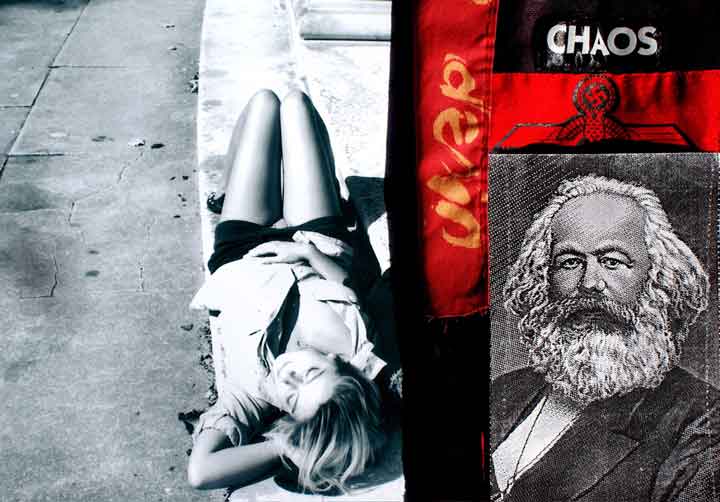 Launch event for TOUGH! magazine ('Our Business Is The Ending of All Business') a new Limited Edition rag concerned with art, fashion, politics, music, sex, drugs etc.. Event will featured LIVE and RECORDED MUSIC, BODY PAINTING, SIGNINGS, SCREENINGS, ORIGINAL ARTWORK etc... Features photographic and text pieces by Phil Strongman, Nic Penrake, Mike Nicholls (ex Evening Standard) e t c ...
THURSDAY 19 MARCH 09
new art in the vaults
HEATHER BLOCKEY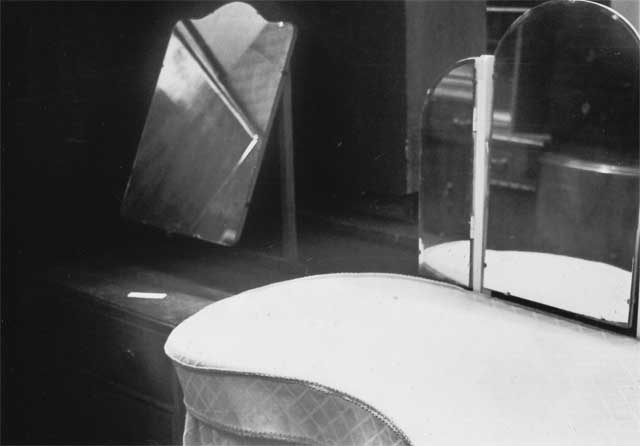 TWO ROOMS
FRIDAY 20 MARCH 09
12-1PM tune in to...
THE FOUNDRY LATE LATE BREAKFAST SHOW
broadcast live on RESONANCE 104.4FM streamed live on
http://www.resonancefm.com
archives on
http://www.sanderswood.com/radio/
music by
BILLY VINCENT
Dirty Folk 5-piece guests include
CHRIS KNIGHT
Government of the Dead
SHAUN DAY
Reelnews
RICHARD NIMAN
Surrealist poet
ALEX WIDDOWSON
Video artist
JOSH MACABUAE
Engineers without Borders
JESSICA CHARLESTON
stairwell artist
HEATHER BLOCKEY
artist in the vaults sketch jamming by
REUBEN SUTHERLAND
ARRAN BOLDERS
DAVID Le FLEMING
"CLUSTER FITS" today's words
EPIC
/
EPOCH
/
ERRATIC
SUNDAY 22 MARCH 09
WELCOME TO WORMWORLD
open mic poetry >>basement
REELNEWS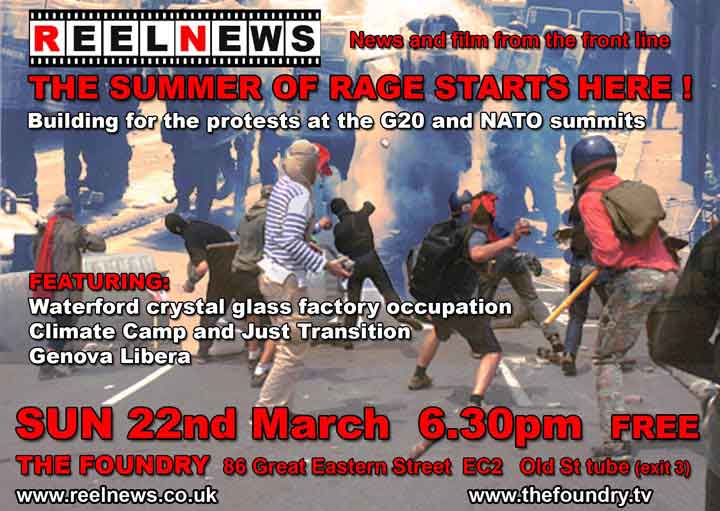 REEL NEWS
at The Foundry this Sunday, March 22nd; 6:30pm - FREE
BUILDING FOR THE G20 AND NATO SUMMIT PROTESTS
The G20 in London on April 2nd looks set to be marked by the largest and most significant anti-capitalist protests here for 10 years, with a classic rainbow coalition of NGOs, environmentalists, trade unionists, radicals, church groups and every other group you can imagine backing the TUC demo on March 28th - followed by big Stop The War, climate camp and other actions on April 1st, and virtually everyone protesting at the summit itself on April 2nd. This is then followed by protests at the NATO summit in Strasbourg from April 2nd - 5th which is looking equally large and militant. The police are determined to criminalise these protests, even predicting trouble on the TUC demo. So lets make these protests as big as possible and put OUR solutions to the mess our leaders are making of the world - we're not going to pay for their crisis or fight their wars! With this in mind, we'll have the latest info on the protests, how you can get involved, activists present from the various groups involved facilitating discussion and showing the following films:
THE GREAT TRADE ROBBERY
A short animation from the World Development Movement showing the unfairness of the current situation.
CLIMATE CAMP: KINGSNORTH
The climate camp will be setting up camp in the city during the G20 summit. This film shows what happened at Kingsnorth coal fired power station last year, including a growing trade union presence, and the growing movement for green jobs and a just transition to combat both climate change and the recession.
WATERFORD CRYSTAL: UNDER OCCUPATION
So your factory is shutting down, your job's gone and you're being told there's nothing you can do? Last week we visited the workers at Waterford Crystal glass factory in Ireland, who refused to accept their factory being shut and are now in their seventh week of occupation, with substantial gains already.
GENOVA LIBERA
The most infamous European anticapitalist protest in history, as 300,000 protestors from across the world stood firm against a cowardly and violent attempt to shut down the anticapitalist movement. We'll be taking a collection and messages of support for the Waterford workers and for the workers at Prisme factory in Dundee who are also in occupation - see you on Sunday, and then see you in the streets!
TUESDAY 24 MARCH 09
open keyboard
PIANO NIGHT
new art in the library
BYAM SHAW PEOPLE'S UNIVERSITY
new art on the bar wall
DANIEL JAMIESON
>>basement
ENGINEERS without BORDERS
http://www.ewb-uk.org/ewbfestivalexhibit
EWB-UK
and
Article 25
present an open exhibition on overseas development speakers from 6.30pm
DR VICTORIA HARRIS
Article 25 CEO
PROF CJ LIM
the Bartlett UCL and Studio 8 Architects, founder
RUVAN MENDIS
EWB-UK, Trustee
WEDNESDAY 25 MARCH 09
>>baseent from 7.15pm
OPENNED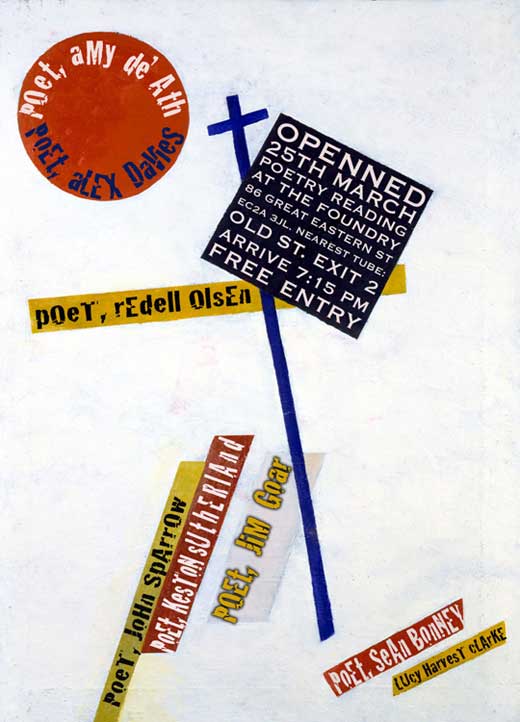 MARCH READING Sean Bonney Alex Davies Amy De'Ath Jim Goar Lucy Harvest Clarke Redell Olsen John Sparrow Keston Sutherland
THURSDAY 26 MARCH 09
>> vaults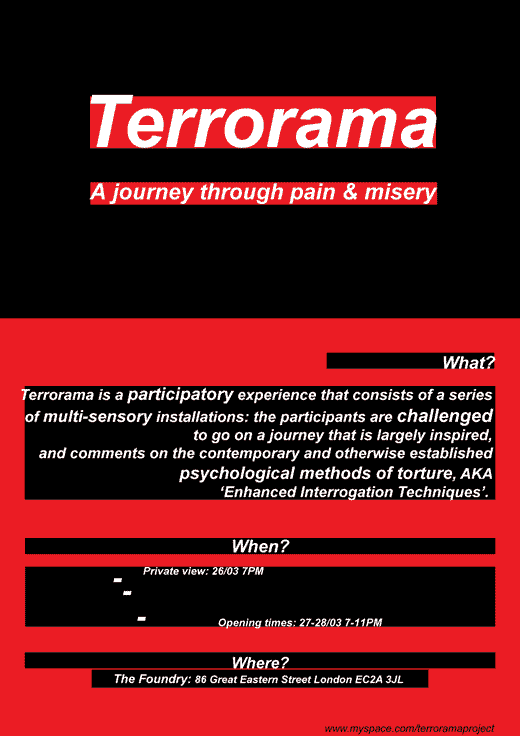 >> basement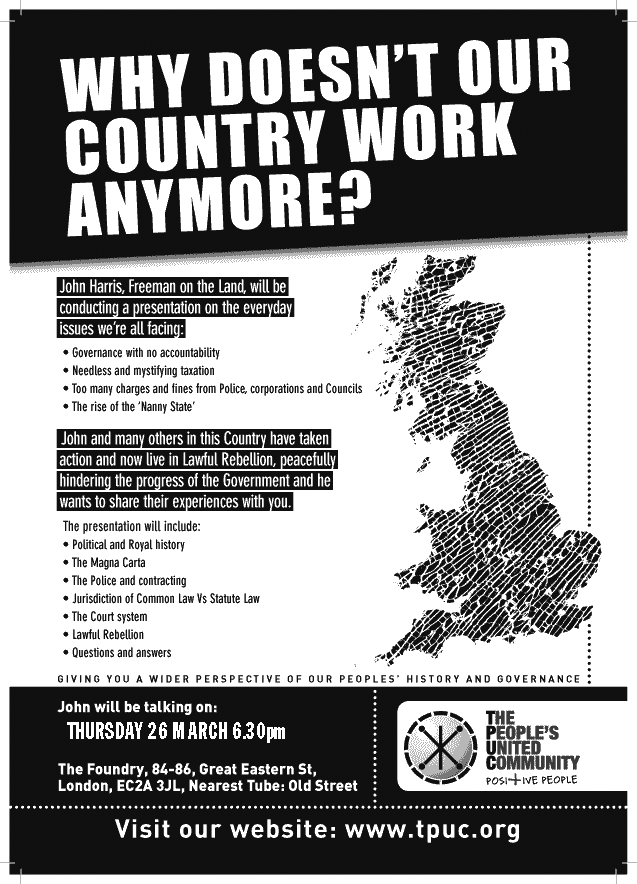 6.30PM -
JOHN HARRIS
Freeman of the land
http://www.tpuc.org
SATURDAY 28 MARCH 09
TEMPORARY EVENT NOTICE
>>bar floor
DISCO_R.DANCE
>>basement
NOISE=NOISE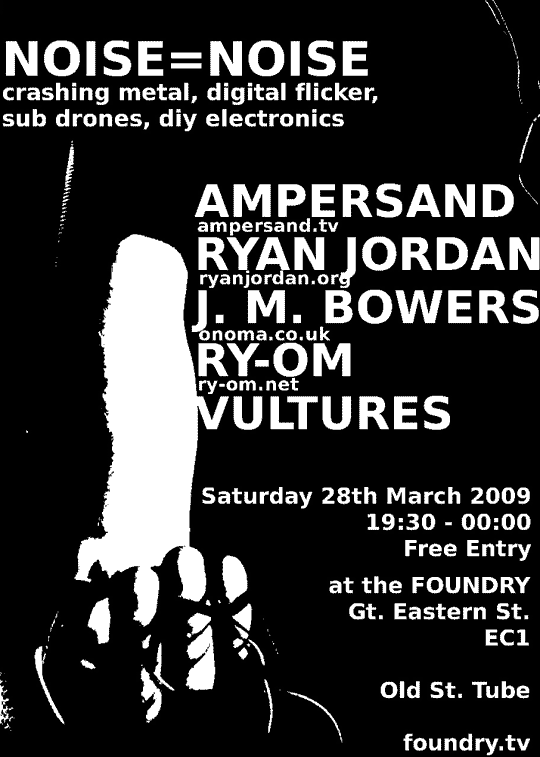 SUNDAY 29 MARCH 09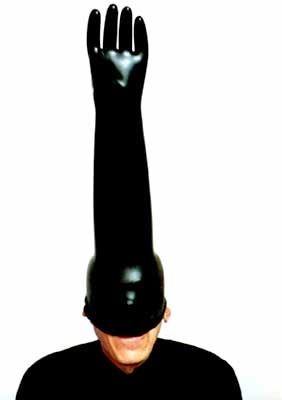 8.00-8.30
ANDREW BAILEY
STAND UP "an endearing yet deeply disconcerting performance artist whose dislocated sense of fun seems to come from a different planet" -william cook gaurdian guide
TUESDAY 31 MARCH 09
open keyboard
PIANO NIGHT
new art on the stair well
CHARLIE
new art on the far wall
ROSEMARY HUDSON
THURSDAY 02 APRIL 09
new art in the vaults
KIMI WYLDE
JOSEPH HOLCKENER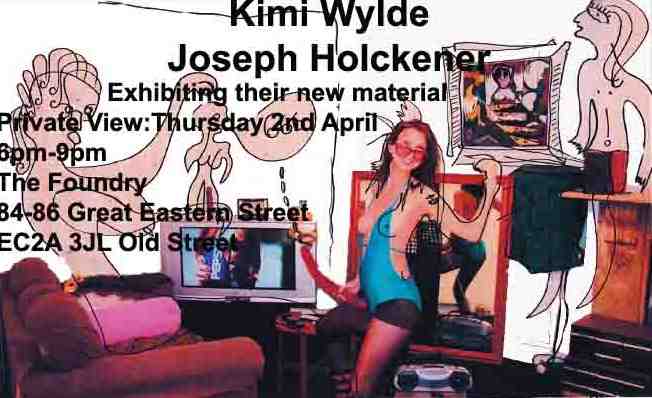 TUESDAY 07 APRIL 09
open keyboard
PIANO NIGHT
new art in the vaults
OCEAN
new art on the bar wall
SELVAN MUNIAN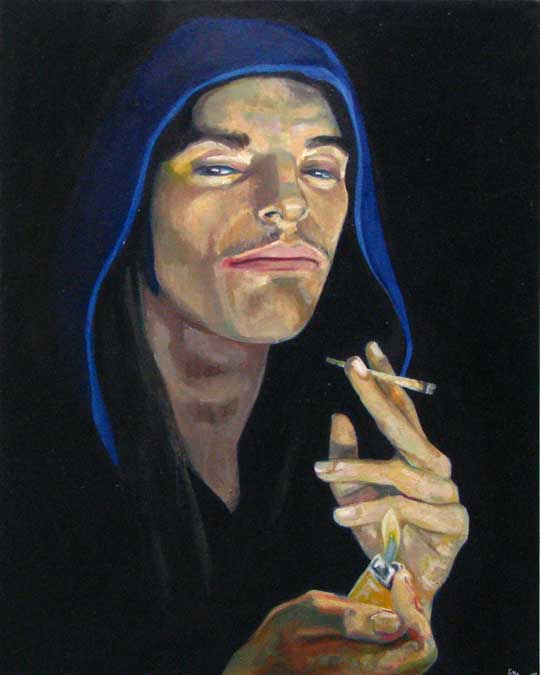 Selven Munian presents a collection of painting, drawing, and photography exploring issues which face us on a daily basis. Influenced by; observations from mass media; journeys around London; and personal experiences: the work comments and questions life in an urban environment. contact number: 07597 148 053 email: mechaselvoid@gmail.com
TUESDAY 14 APRIL 09
new art on the far wall
SETH BANKS
new art on the stair well
JOHN TILSON
The installation is an arangement of three A1 landscape pieces called 'yin and yang with grey scaling'. It is a visual display of man and nature in antithesis and in harmony: with the garden as the halfway house between artifice and what man is born into. The opening night (Wednesday the 22nd of April) brings together the talents of film makers, comedians, poets and musicians under the careful tour guidance of a science-geek musician, comedian-compare.
SATURDAY 25 APRIL 09
TEMPORARY EVENT NOTICE
bar floor:
VINYL PLEASURES
basement:
UGLYFUNK
SUNDAY 26 APRIL 09
WELCOME TO WORMWORLD
open mic poetry >>basement
REELNEWS
TUESDAY 05 MAY 09
new art in the vaults
LEO COHEN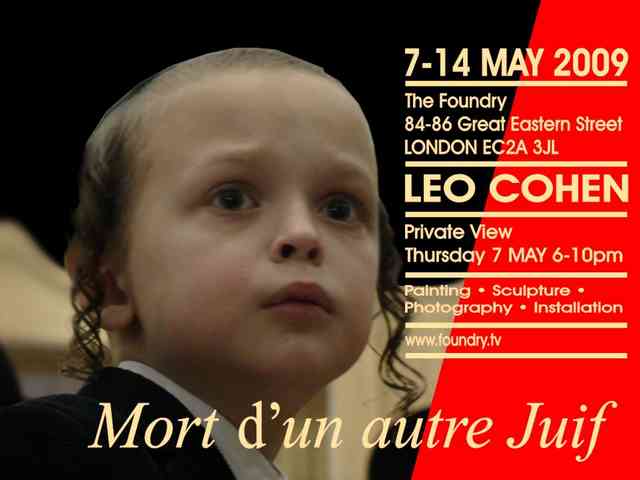 "Death of another Jew" The installation is set in two parts consisting of a world juxtaposing Judaism with debauchery. Sanctity and holy innocence is perhaps being perverted by sex and filth, where one is caught between the balance of something beautiful and something unholy one might also find the holy distasteful too. The aesthetics of the pieces may show that they are made from cheap recycled material and the artist stresses the metaphor on religion that perhaps it is something material, holy, made from unholy and that beautiful things are perhaps man made from the things we neglect and normally throw away. It is autobiographical of the artist's orthodox Jewish upbringing and rebelling, his feelings towards religion and the new perversions of life outside the bubble neither for, nor against either, but constantly torn between two worlds and always left hanging in the balance. new art on the stair well
MARCO D'ITRIA
'Since I've been loving you' new art on the far wall
TINA VILJOEN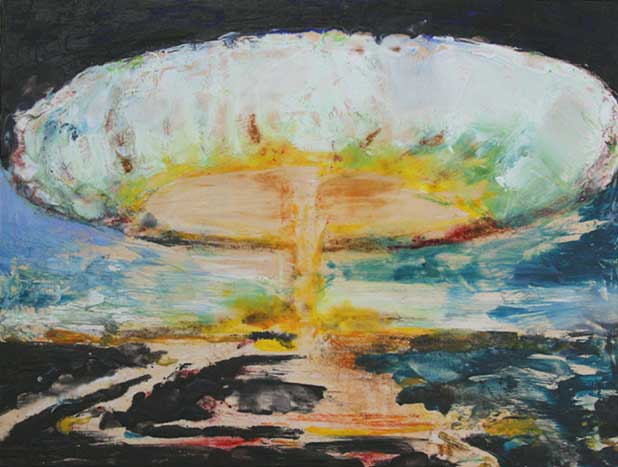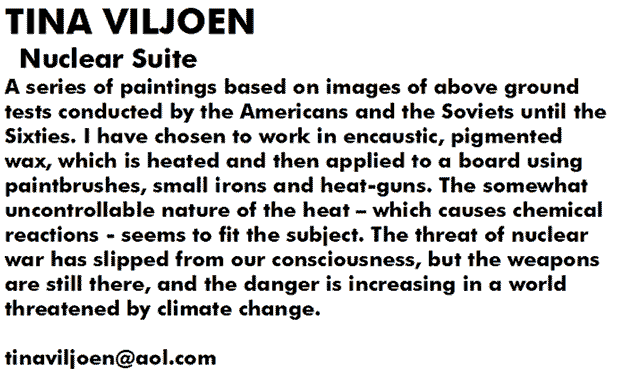 new art in the basement
MARIA YIASOUMI
TRAVEL LITE
SUNDAY 31 MAY 09
WELCOME TO WORMWORLD
open mic poetry >>basement
REELNEWS
WEDNESDAY 24 JUNE 09
new art on the far wall
GREG CHARLTON
SUNDAY 28 JUNE 09
WELCOME TO WORMWORLD
open mic poetry >>basement
REELNEWS
TUESDAY 14 JULY 09
new art on the bar wall
EVA LIS
_ _ ...check back later for more info!
  84-86 GREAT EASTERN STREET LONDON EC2 020 7739 6900