THURSDAY 27 NOVEMBER 08
new art in the basement...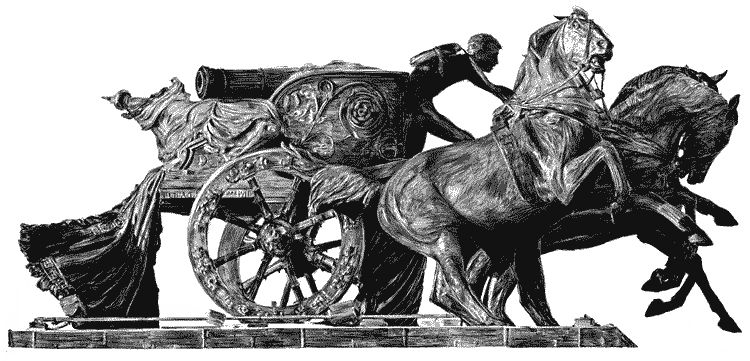 STEFAN ROMAN
THE HARD SHOULDER
London from the point of view of a Lorry Driver with a given higher perspective of the city, the road and time. All possibilities are random and pictures flow past the windscreen like a cinema. "The hard shoulder" exhibition at the Foundry from 27th November the product of five years driving lorries in and around London and photographs and drawing. There are around 70 photographs ( super A3) that work individually or collectively in various multiples, triptychs and diptychs etc. The drawings are large 4'x4' - 6'x4' etc - though I like to turn them back into photographs themselves.
http://www.stefanroman.co.uk
art installation in in the vault...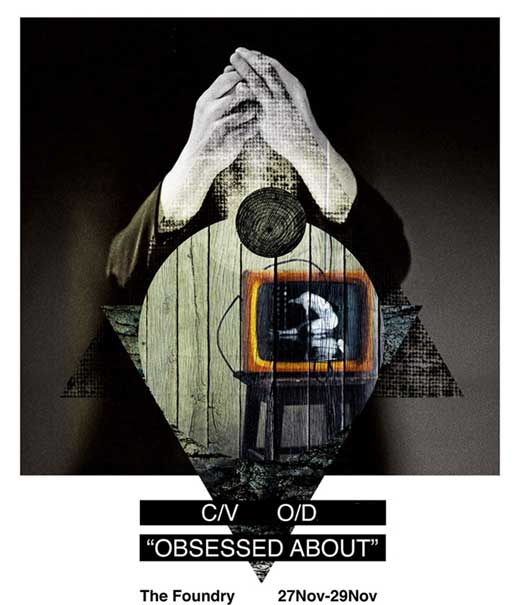 sound -
ALEX TAYLOR
video installation -
GIULIA BACCI
performance -
LAURA BRERA
info - 07748 368 112 automaticdreams@googlemail.com installation open 6pm-11pm Thursday - Saturday performance Thursday and Saturday at 9pm
TUESDAY 02 DECEMBER 08
new art on the far wall
CHRISTIAN
and
HARUNA
WEDNESDAY 03 DECEMBER 08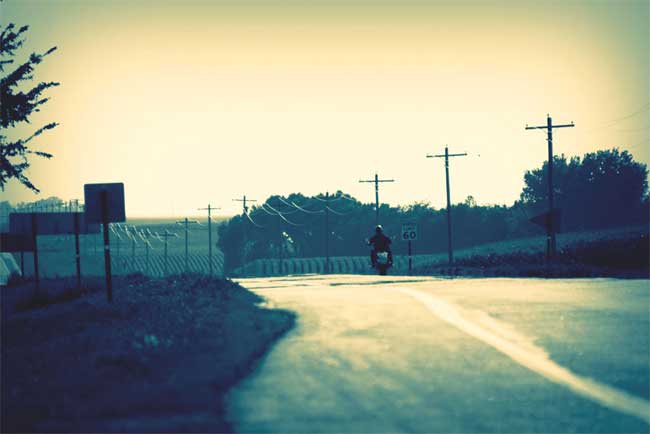 Ride the Word On the Road Party Cast: Vincent de Souza, poetry - Vanessa Gebbie, short fiction -Jane Holland, poetry - Chris McCabe, poetry - Jay Merill, short fiction also Guest Publication: The Delinquent - Speaker: Jason King, editor and Truckers' Art Exhibition - Speaker: Stefan Roman, artist
THURSDAY 04 DECEMBER 08
>>VAULTS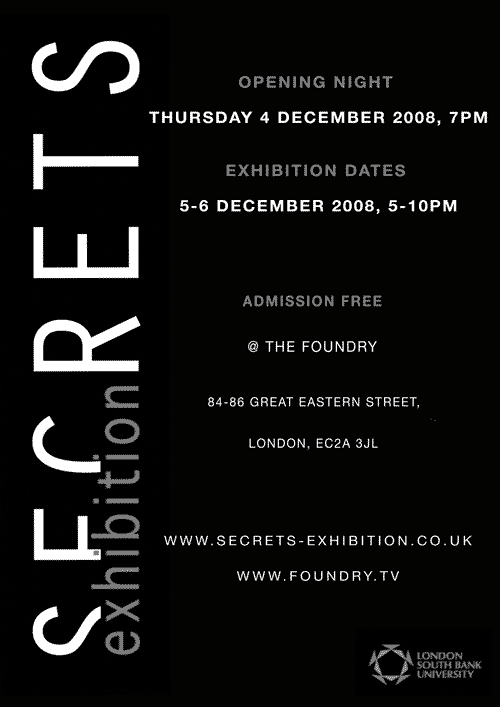 SECRETS
Secrets' is a multimedia exhibition that has been curated by a collaborative of artists. The theme of the exhibition is 'Secrets' and all work that is exhibited will be shown within a constructed bedroom environment with which the audience must interact in order to find the artworks. The room will be darkened and the work hidden, and the viewer is expected to "snoop" throught the space in order th locate the work. The concept of viewer participation is essential to this project and links in with ideas related to voyeurism as well as notions of the surveillant society.
http://www.secrets-exhibition.co.uk
SUNDAY 07 DECEMBER 08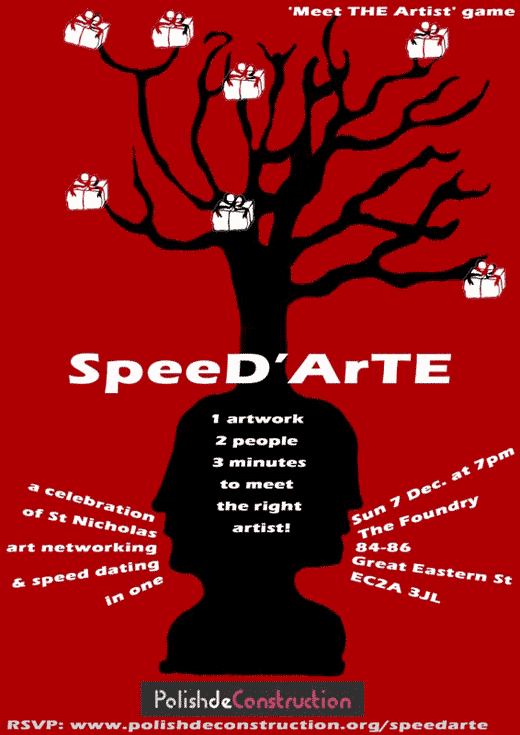 TUESDAY 09 DECEMBER 08
new art on the bar wall..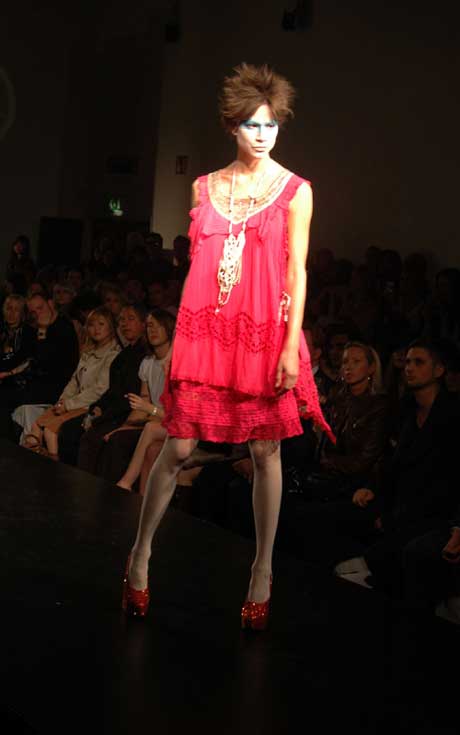 AMANDA CANNON
http://www.agirlcannon.com
new art in the library...
CHRISTINA MARIGNOLI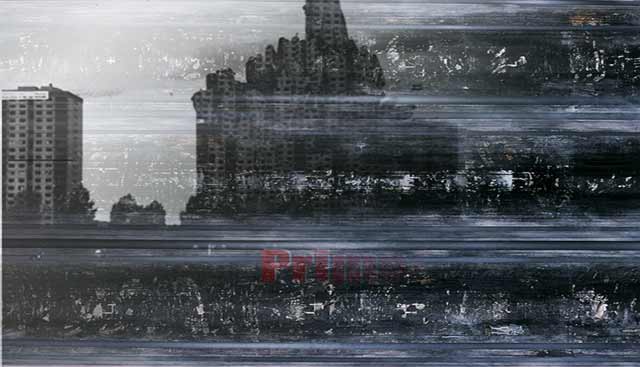 WEDNEDAY 10 DECEMBER 08
>> basement
OPENNED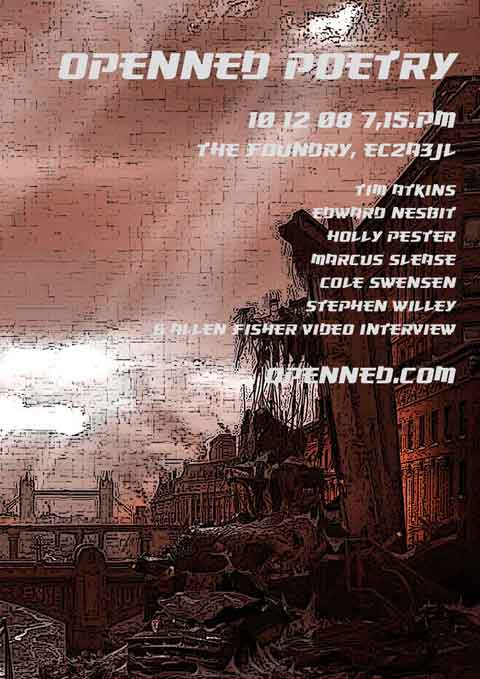 The final Openned reading before Christmas takes place on Wednesday 10th December at 7.15pm in the basement of The Foundry, London, EC2 Featuring: Edward Nesbit Holly Pester Cole Swensen Stephen Willey More TBA & the final extract from Openned's video interview with Allen Fisher Admission is free.
http://www.openned.com
THURSDAY 11 DECEMBER 08
one-day show in the basement...
SECOND GALLERY
Michal Kopaniszyn -
http://www.kopa.tv
Bartosz KA APTECZKA Music -
http://www.myspace.com/bartekka
Matylda Salajewska -
http://www.myspace.com/skinkace
Milosz Wnukowski Potfur -
http://monstfur.digart.pl/digarty/
Maciej Kwasniewski -
http://www.myspace.com/maciejkwasniewski
Madej -
http://www.youtube.com/watch?v=n1WNwfhSimk
Marta Kapuscik -
http://www.youtube.com/watch?v=ZVBeTFkNjqs
Dominika Kieruzel -
http://www.myspace.com/chrysantemum_99
-- pozrawiam, Bartosz KA ------------------------
http://www.myspace.com/bartekka
TUESDAY 16 DECEMBER 08
new art on the far wall..
MAJA RADESIC
I paint my phobia - fear of stuffed animals. The stillness of the stuffed animal, their glass eyes and the scars present the moment of horror induced by human power play which by butcher's 'technique' build hunting trophies for their homes, restaurants and social clubs. I place my objects under cover of the dark night, to describe the fate of the animals dictated by the overpowering human species. I want to overcome that fear through something pleasant and joyful - painting. The Nature is drawn using geometrically strong lines which mimicks computer algorithm compression. Digital 'filtered' imagery is here to revoke the unnatural state of the stuffed animals. Colors have carton-ish suggestions primarily red which in conjunction with 'sewing scars' comments on 'blood empty' state of the animals. new art on the stair well...
DANNY POCKETS
_ _ ...check back later for more info!
  84-86 GREAT EASTERN STREET LONDON EC2 020 7739 6900