CHRISTMAS/NEW YEAR OPENING
SUNDAY 23 DEC - THURS 27 DEC CLOSED FRI 28 DEC - SUN 30 DEC OPEN AS NORMAL MON 31 DEC OPEN NEW YEARS EVE TUES 1 JAN CLOESD WEDS 2 JAN CLOSED THURS 3 JAN OPEN AS NORMAL
SUNDAY 23 DECEMBER - THURSDAY 27 DECEMBER 07
CLOSED
MONDAY 31 DECEMBER 07
NEW YEARS EVE OPENING NIGHT FREE ENTRY doors open 4pm and close at 11pm. Bar till 1am. NO ENTRY AFTER 11PM!! incidental music by pete and friends midnight miscount by Viz the Spoon
TUESDAY 01 - WEDNESDAY 02 JANUARY 08
CLOSED
THURSDAY 03 JANUARY 08
OPEN
FRIDAY 04 JANUARY 08
OPEN
SATURDAY 05 JANUARY 08
OPEN
SUNDAY 06 JANUARY 08
8.30-10
WELCONE TO WORMWORLD
open mic poetry
TUEDAY 08 JANUARY 08
open keyboard
PIANO NIGHT
new art on the stair well
KELLY KEAL
new art on the bar wall
CAROLYN CURTIS MAGRI
DURABLE GELLO - THE LIBRARIAN A series of watercolours based on words and poems sent to the artist from Chicago by artists from The Grand Order of the Lamprey. The work was digitally photographed, emailed to the US and exhibited as projections, shown on a computer or printed out and distributed there.
WEDNESDAY 09 JANUARY 08
new art on the bar wall exhibition Steve Rushton The Excremental Poet
I SHIT, BUT IS THAT IT?
The Sentence on the Screen The Writing on the Wall Wednesday 9th Jan (p.v.) The Foundry EC2 (www.foundry.tv) From 7 til 11 in the evening Art, poetry and bodily emissions musical accompaniment with Uncle Rabbit
http://www.steverushton.org.uk
exhibition continues until 19th Jan
FRIDAY 11 JANUARY 08
BOMB FACTORY

4-8PM
PROTEST AFTERPARTY
GUANTANAMO DAY OF ACTION WITH AMNESTY INTERNATIONAL David J and Charlie Blue close the Guantanamo Day of Action with spoken word for the protest infantry. Take it home, sing it, wear it, no one leaves without a 'smartbomb' or misses a try at the mic. Games, gear and graff from the other side of the War on Terror.
http://www.sabatikal.com
UK graffers, proppa rappers and small souljaz fight back in the War on Terror. Drop a Smartbomb over Guantanamo and bring a smile to a POW...
SUNDAY 13 JANUARY 08
8.30-10
WELCONE TO WORMWORLD
open mic poetry
TUEDAY 22 JANUARY 08
open keyboard
PIANO NIGHT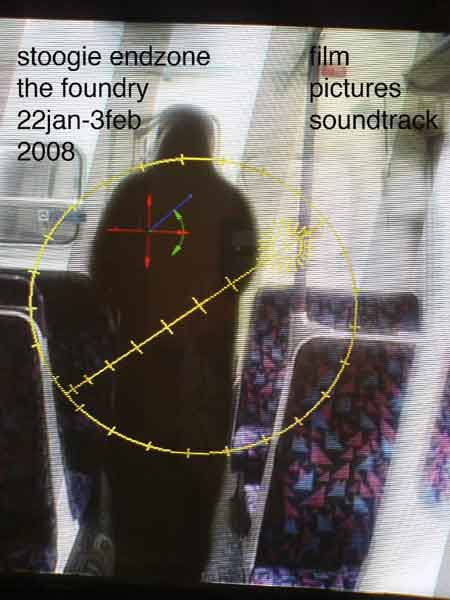 new art in the library
STOOGIE
stooge stooj(slang) n a performer speaking from the auditorium; an actor who feeds lines to a comedian etc and is used as the butt of the jokes; an subordinate or drudge; a scapegoat-also vi-stooge around(old fashioned) to wander about leisurely, purposelessly, or idly endzone is an 8min film with soundtrack by "dark matter clear pattern"
TUEDAY 29 JANUARY 08
open keyboard
PIANO NIGHT
new art in the stair well
ROSEMARY HUDSON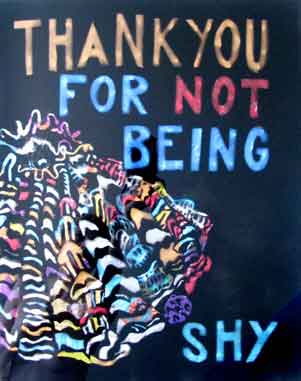 WEDNESDAY 05 MARCH 08
new art on the bar wall
TABITHA KNIGHT
opening night, with incidental music provided by the artist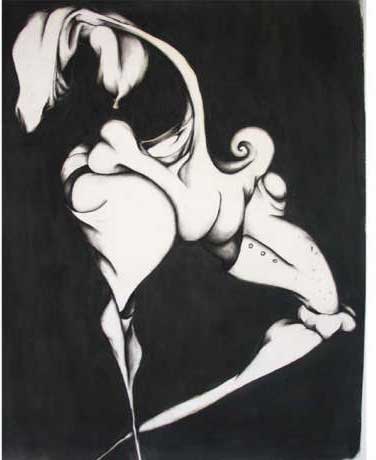 TUESDAY 01 APRIL 08
new art in the library
ROSEMARY HUDSON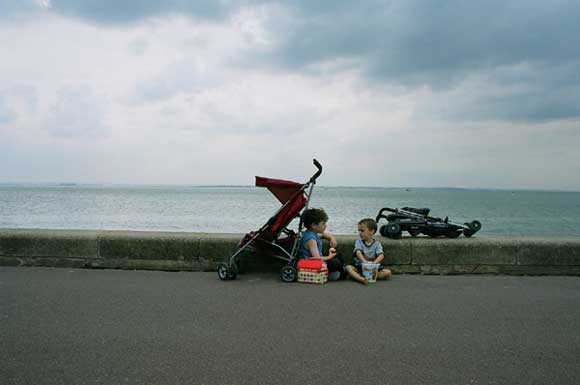 TUESDAY 08 APRIL 08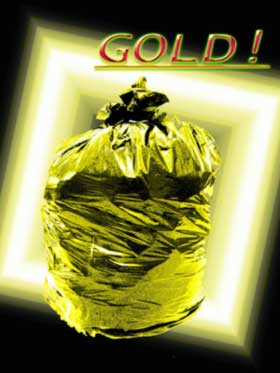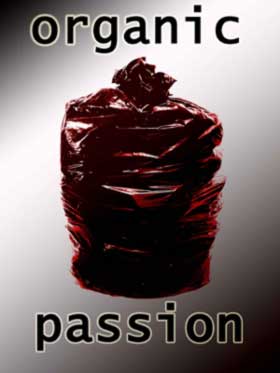 new art on the far wall
RICCARDO MATLAKAS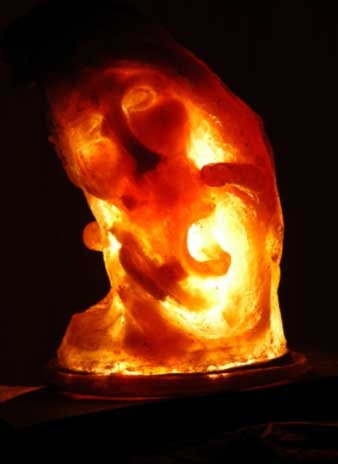 _ _ ...check back later for more info!
  84-86 GREAT EASTERN STREET LONDON EC2 020 7739 6900