SUNDAY 14 OCTOBER 07
5-8 Appointment of the Prebendary of Eald [Old] Street
http://www.hendontimes.co.uk/display.var.1732792.0.new_title_rewards_service_to_church.php
"A Friern Barnet vicar is to gain an honorary title in recognition of his long service to the Diocese of London. The Rev Adrian Benjamin, of All Saints Church, in Oakleigh Road North will be named the Prebendary of Eald Street at a ceremony at St Paul's Cathedral this month" Following his appointment at the cathedral, the Rev Adrian Benjamin and friends will be celebrating at the Foundry on Old Street. Incidental Entertainment will be provided. 8 -10
WELCOME TO WORMWORLD
open mic poetry 8-10pm
TUESDAY 16 OCTOBER 07
open keyboard
PIANO NIGHT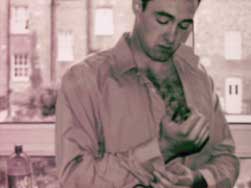 new art on the far wall
BENJAMIN GLEAN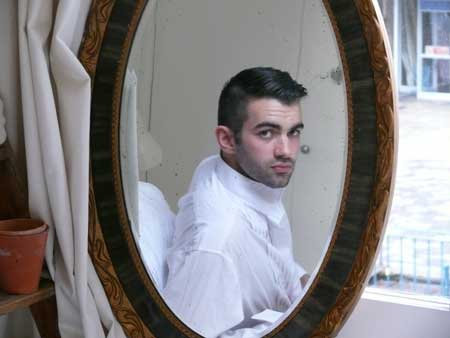 new art in the library
SOPHIE ADAMS
[[haitian woman]] new art in the vaults
CHOT FREER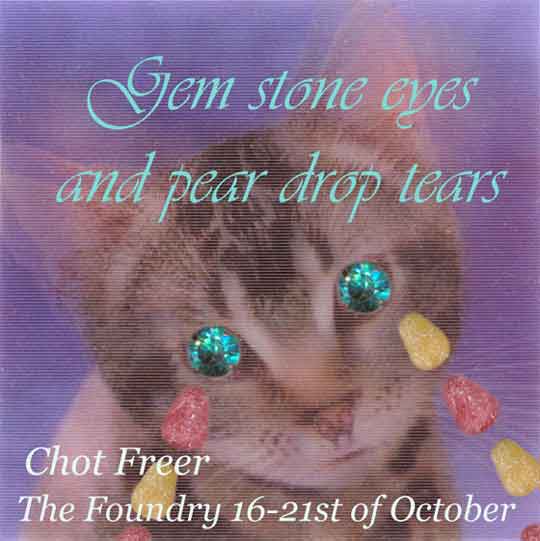 Welcome to the autumn of artifice - The beautiful strangers will include: a teenage tragic love affair, a secret garden, a baby fly and a fortune teller.
SUNDAY 21 OCTOBER 07
8 -10
WELCOME TO WORMWORLD
open mic poetry 8-10pm
TUESDAY 23 OCTOBER 07
open keyboard
PIANO NIGHT
new art on the far wall
TANIA HOUGHTON
new art on the stair well
DANIELLE HIGGINS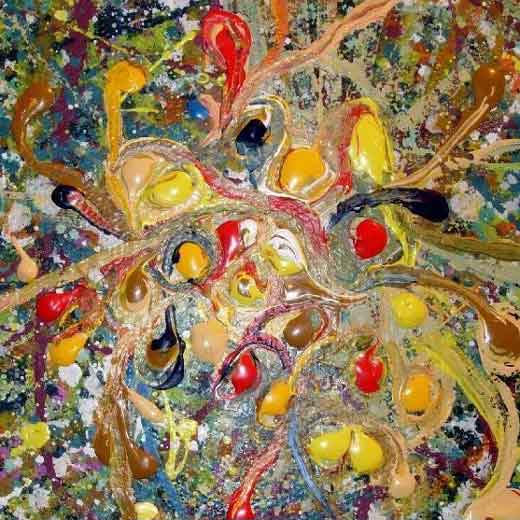 WEDNESDAY 24 OCTOBER 07
new installation in the vault
SLOSHED
video with soundtrack in cage. all sounds and images derived form dripping liquids (all sounds are from a single drop of water) opening night with
FLYING CABERET
poetry and performance >> basement
COMEDY NIGHT
with Roddy McDevitt
THRUSDAY 25 OCTOBER 07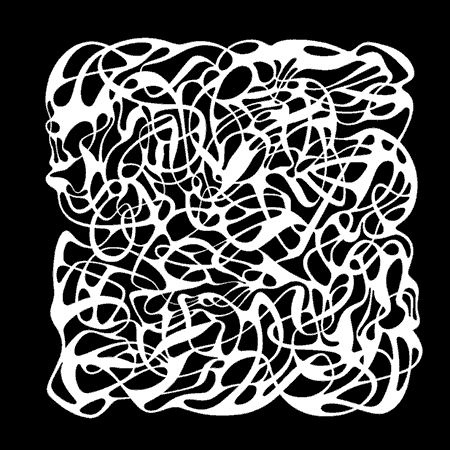 THE LAUNCH PARTY
CYCLONES WILL BE CELEBRATING
THE LAUNCH OF THEIR DEBUT SINGLE
BOMBS AS FIREWORKDS

WITH A LIVE SET FROM CYCLONES
+ MUSIC FROM SOME GREAT RECORDS
25 OCTOBER AT THE FOUNDRY
FROM 8PM UNTIL 12PM
SINGLE AVAILABLE ON ITUNES
AND AT WWW.PUREGROVE.CO.UK
SATURDAY 27 OCTOBER 07
DISCO_R.DANCE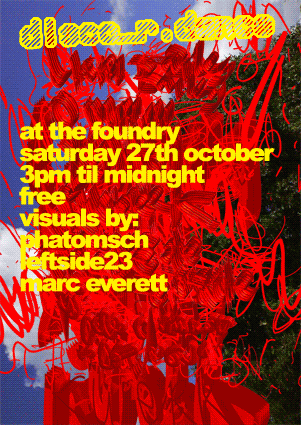 disco_r.dance Dancon1 & Pete Stormcrow presents... Live sets from Liam Bailey, Ommm, Xylitol, Kwerk in the main bar. Guest dj set from Fronce De Bonque Downstairs Walter & Sabrina will be launching their new Danny Dark Records release "We Sing For The Future" with live sets from Stefano Tedesco Skitanja. They will also be showing films by Sabrina, Kompleksi and Spul. On Saturday 27th October 2007 Danny Dark Records will be showing films and presenting live music downstairs at the Foundry as part of disco_r.dance
http://www.myspace.com/discordnce
Sat 27th October, 9-12pm downstairs at The Foundry (84-86 Great Eastern Street London EC2) Admission: FREE FILMS by Sabrina (Walter & Sabrina) and Kompleksi/Spul Films of Finland/Australia LIVE MUSIC from Stefano Tedesco's SOLARIS and SKITANJA Links Kompleksi:
http://phinnweb.blogspot.com/
Tina Ulevik/Spul Films:
http://www.myspace.com/spulfilmsaustralia
Stefano Tedesco:
http://www.stefanotedesco.net/
Skitanja:
http://profile.myspace.com/index.cfm?fuseaction=user.viewprofile&friendid=153265927
Buy "We Sing For The Future" online at
http://www.dannydarkrecords.com
See October's The Wire and Rock a Rolla magazines for articles on Walter & Sabrina.
TUESDAY 30 OCTOBER 07
new exhibition in the basement
CAMP FOR CLIMATE CHANGE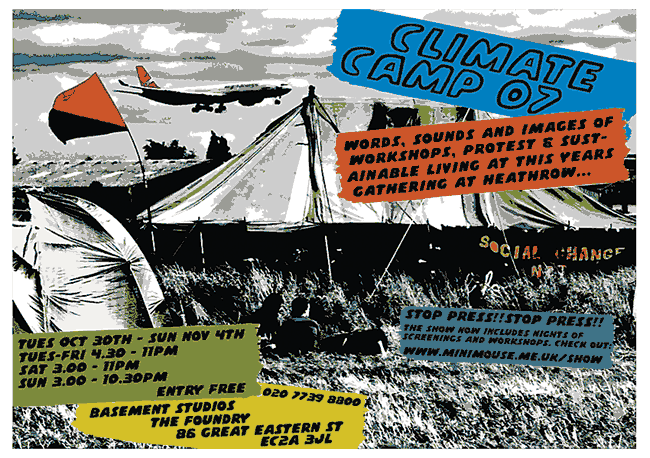 It was August 12th - just before midnight - when climate change activists took over a piece of land at Sipson and started to build Climate Camp 2007. With access roads blockaded by police, hundreds of people carried everything they needed to build a self sustaining village in the shadow of Heathrow. Then for ten days concentrated the attention of the world's press on the stupidity of planning air expansion on a threatened planet. The Climate Camp exhibition documents in sound, words, installations and images the life, workshops and direct action of those ten days. It examines the issues and thinking of people who seek to stop the world sleep-walking into a disaster that is manifestly preventable, but hugely profitable for a powerful few. Opening at The Foundry, 86 Great Eastern Street EC2 on Tuesday 30th October at 7pm the exhibition runs until 4th November before touring UK cities threatened by regional airport expansion. Workshops, talks and film screenings will appear at
http://www.minimouse.me.uk/show
as they are confirmed. Photographs from the show are a selection from those to be seen at
http://www.minimouse.me.uk
For further details mail mini_mouse[at]riseup.net or call Mike on 07878 892486?
WEDNESDAY 01 NOVEMBER 07
>>basement
CAMP FOR CLIMATE CHANGE
CREATIVE RESISTANCE TO CLIMATE CHANGE Short presentations on creative direct actions and artistic projects against climate change will be followed by a participatory workshop. Everyone is welcome to stay along after for drinks, chats or planning!
THURSDAY 02 NOVEMBER 07
>>basement
CAMP FOR CLIMATE CHANGE
CLIMATE CAMP: THE INSIDE STORY. Speeches and film direct from those who were there - music, drinking and chatting 'til late.
TUESDAY 13 NOVEMBER 07
open keyboard
PIANO NIGHT
new art in the basement CHARLOTTE MACMILLAN
WHAT NOT TO SHARE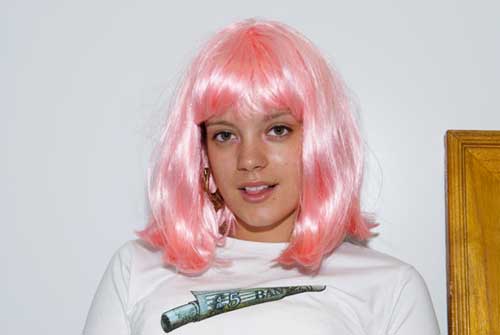 The What Not To Share campaign celebrates a year of raising awareness in young people to the dangers of transmitting hepatitis C with a major exhibition of Charlotte MacMillan's portraits. 35 portraits taken over the past year will be exhibited featuring key celebrity supporters including: Sadie Frost, Pete Doherty & Babyshambles, Dirty Pretty Things, Kano, Roots Manuva, Johnny Marr, Lily Allen, Rufus Wainwright, Kevin Roland, Jack Davenport, James Lavelle and Alan McGee.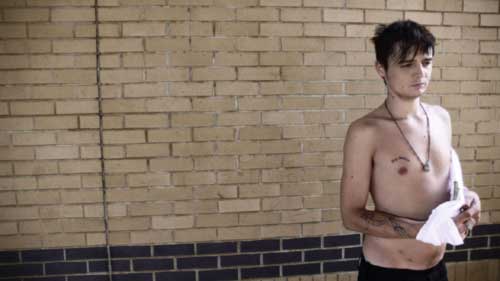 Hepatitis C is a highly destructive disease. It can be transmitted by piercing, tattoos, transfusion, injection, sharing toothbrushes or razors, dental work and, sharing notes to snort drugs. It attacks the liver and can lead to cirrhosis, liver cancer and liver failure. It is responsible for 50-75% of liver cancers and it is currently a bigger killer in the West than HIV. new art on the bar wall
DAN SIMON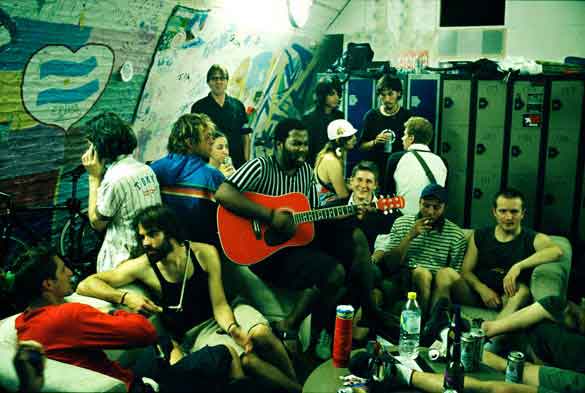 The subject of continued controversy, the London rickshaw trade has changed the face of late night Soho. But behind the media stories and the court cases, the international community of workers – a broad mix of people from students to inveterate wanderers – have rarely been exposed. Seen through the eyes of a former rider, The London Rickshaw Riders brings into focus an extraordinary sub-culture where the streets of the West End play out to a nightly hunt for reward and accommodation is won by the physical acquisition of abandoned properties.
TUESDAY 27 NOVEMBER 07
open keyboard
PIANO NIGHT
new art in the library
MARK WYDLER
(until Sunday 9 December)
My paintings ask questions about the nature of consciousness. They look at how concepts of consciousness can be represented, the ways different cultures have found to understand and show it, and their and our attitudes towards the consciousness of other living things.
SATURDAY 01 DECEMBER 08
NOISE = NOISE Noise performances/experimental music/visuals/sounds///from :
FAMILY BATTLE SNAKE
SPAX
JAMKA
ELITE BARBARIAN
DAN MERRILL
FEXIA
KRGN
PIXELPUSHER
and a special physical computing dance project by
RYAN JORDAN
,
TAMON MIYAKITA
,
CLAIRE KEATING
and
DAVE CORBETT
.
TUEDAY 08 JANUARY 08
open keyboard
PIANO NIGHT
new art on the bar wall
CAROLYN CURTIS MAGRI
DURABLE GELLO - THE LIBRARIAN A series of watercolours based on words and poems sent to the artist from Chicago by artists from The Grand Order of the Lamprey. The work was digitally photographed, emailed to the US and exhibited as projections, shown on a computer or printed out and distributed there.
WEDNESDAY 05 MARCH 08
new art on the bar wall
TABITHA KNIGHT
opening night, with incidental music provided by the artist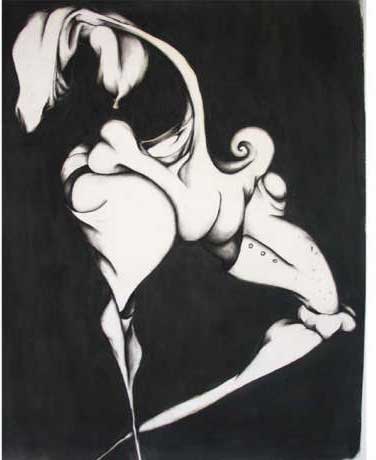 _ _ ...check back later for more info!
  84-86 GREAT EASTERN STREET LONDON EC2 020 7739 6900