SUNDAY 15 JULY 07
8 -10
WELCOME TO WORMWORLD
open mic poetry 8-10pm
WEDNESDAY 18 JULY 07
MARIA BAPTISTA
CHRISTINA SUMMERS
exhibition opening night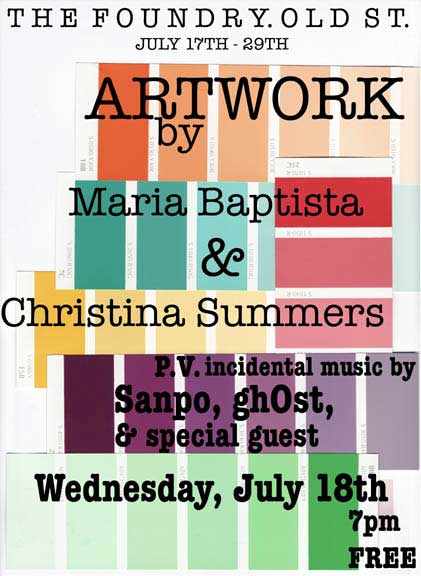 http://www.freewebs.com/christisummers
SUNDAY 22 JULY 07
8 -10
WELCOME TO WORMWORLD
open mic poetry 8-10pm
TUESDAY 24 JULY 07
new art on the bar wall
YOLANDE LETSHOV
http://www.lovegenevieve.co.uk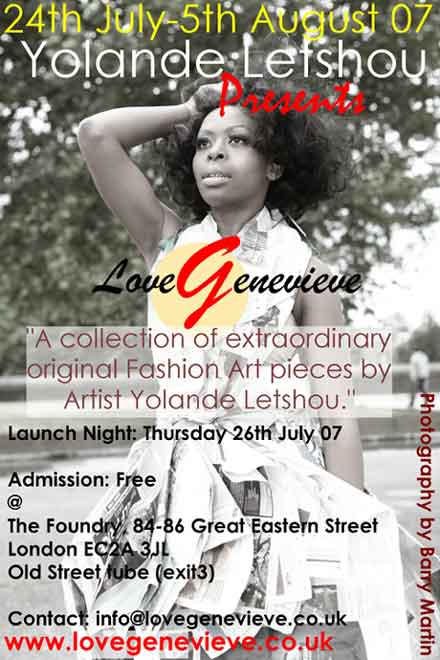 new art in the library
ALINE DURIAUD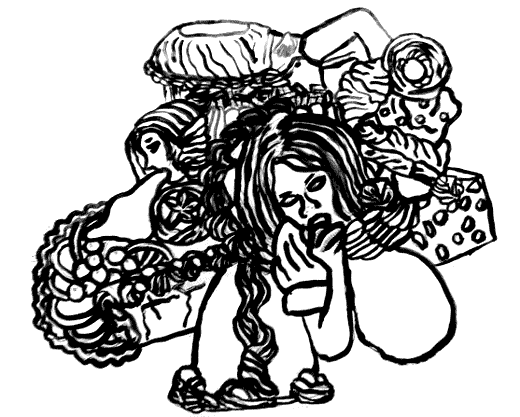 open keyboard
PIANO NIGHT
WEDNESDAY 25 JULY 07
ZINE LAUNCH
a literary event
SAVAGE MESSIAH 77777777777777777 NIGHT DRIFT THROUGH BABYLON: Tracing the path of the lost River Walbrook ???????????????????? Stop the city riots, Masonic geometry, radical history, 24 hour cafs, the search for clandestine smoking dens and more???????????. ?Five miles meandering with a mazy motion Through wood and dale the sacred river ran, Then reach?d the caverns measureless to man, And sank in tumult to a lifeless ocean.? S.T.Coleridge On Wednesday 25th of July ,7-11pm,the Savage Messiah collective will be be presiding over the Foundry, Great eastern street, London EC2 to celebrate the release of issue 7 of fabled,cult zine SAVAGE MESSIAH by LAURA OLDFIELD FORD.Issue 7 focuses on the E8 postal district and encompasses Hackney town hall storming, Narrow way poll tax disturbances, attacks on Yuppiedromes, Lidl shopping riots AND romantic encounters in abandoned Olympic velodromes (c 2013). There will be zine signings, music, revelry and plotting. ????????????.then at closing time (11.30pm) the masses will assemble outside the pub for a NIGHT DRIFT THROUGHT BABYLON. The SAVAGE MESSIAH will facilitate a drift through the City of London attempting to trace the path of the hidden River Walbrook. The Savage Messiah employs the tactic of psychogeography to expose the repressed desires of the city. The Savage Messiah seeks out nomadic architecture, transient architecture, places that can slip out of sight, re emerge and reconfigure elsewhere. Savage messiah drifts through the city in defiance of panoptican surveillance,seeking out places that do not exist on official maps, she roams through a maze of bolt holes, alleys and sites that slip through the net. The Savage Messiah gravitates towards settlements and reconfigurations of forms that become an outward manifestation of nomadic subjectivities. Savage messiah welcomes participants to this walk to join a collective cognitive mapping of the city and hopes that stories, anecdotes, drawings, ideas generated on the route will become part of the next issue of the zine. ! VIVA SAVAGE MESSIAH ! SAVAGE MESSIAH DEMANDS THE ABOLITION OF ALL ZONES!! DESTROY CARTESIAN RHETORIC, SMASH THE VILLE RADIEUSE, SAVAGE MESSIAH IS CALLING FOR A MASS RETURN TO THE LABYRINTH!!! Bring pens, chalk, battered cassette recorders, booze.
SUNDAY 29 JULY 07
8 -10
WELCOME TO WORMWORLD
open mic poetry 8-10pm
TUESDAY 31 JULY 07
new art on the far wall
ALAIN BRESSAN
open keyboard
PIANO NIGHT
WEDNESDAY 01 AUGUST 07
>>basement
OPENNED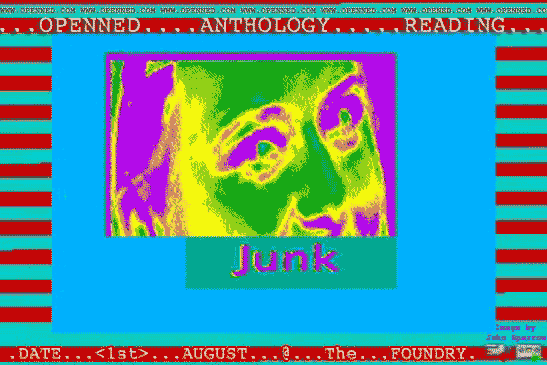 TUESDAY 11 SEPTEMBER 07
open keyboard
PIANO NIGHT
new art in the stair well
VINCENT CHERIB
D I S A S T E R R E C O V E R Y
_ _ ...check back later for more info!
  84-86 GREAT EASTERN STREET LONDON EC2 020 7739 6900