WEDNESDAY 21 MARCH
art on the bar wall and in the library
ATIS REZISTANS
THE SCULPTORS OF GRAND RUE Port-Au-Prince, Haiti opening night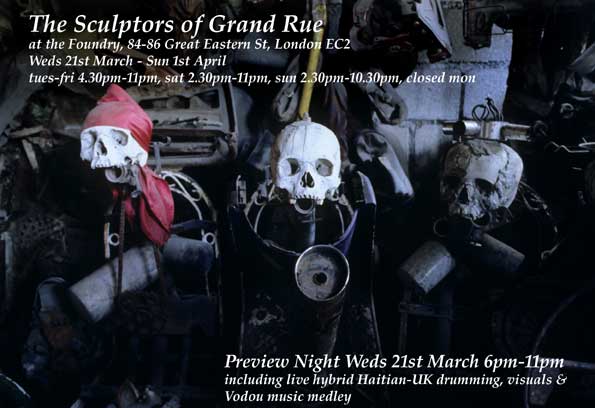 http://www.atis-rezistans.com
http://www.artshaitian.com/Pages/epluribus2.html
art in the basement
CLIVE GRAHAM and JOHN
new art in the vaults
RACHEL WARRINER
opening night
SATURDAY 24 MARCH
>> basement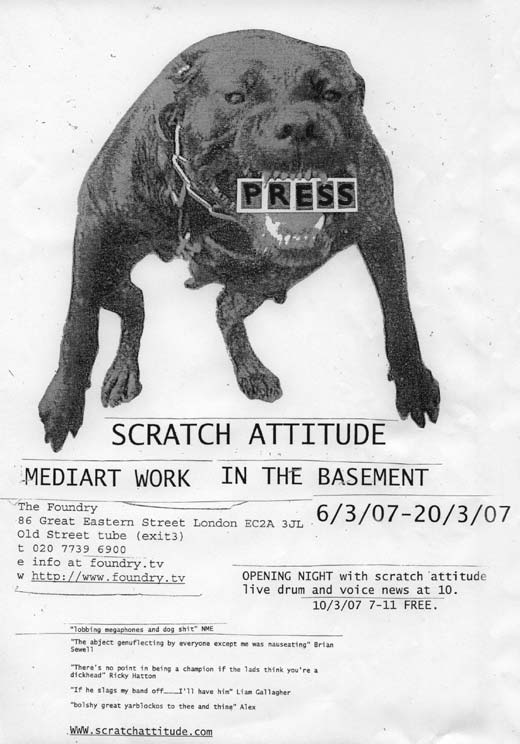 Clive and Graham bash out a final performance of their exhibition. Unmissable.
SUNDAY 25 MARCH
ATIS REZISTANS
THE SCULPTORS OF GRAND RUE Port-Au-Prince, Haiti Eugene, Celeur and Guyodo invite you to join them VOODOU DRUMMING a celebration 200 years ago today, slavery was abolished with...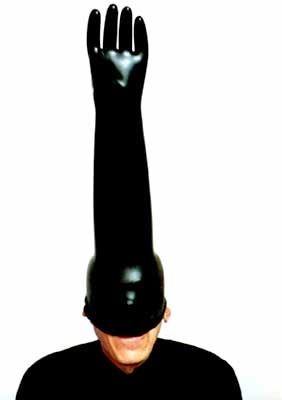 8.00-8.30
ANDREW BAILEY
STAND UP "an endearing yet deeply disconcerting performance artist whose dislocated sense of fun seems to come from a different planet" -william cook gaurdian guide 8-10
WELCOME TO WORMWORLD
open mic poetry
TUESDAY 27 MARCH
open keyboard
PIANO NIGHT
>>basement, all week...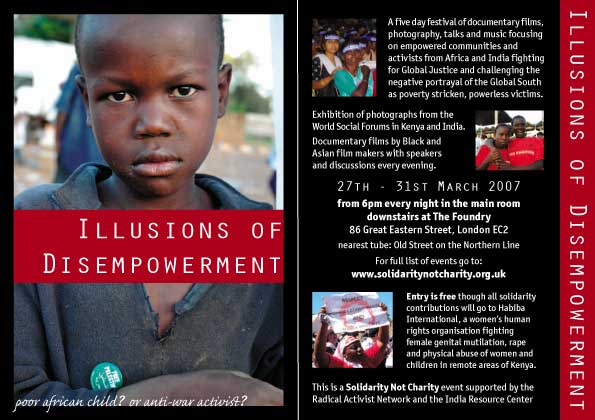 ILLUSIONS OF DISEMPOWERMENT
5 day mini-festival of documentary films, photos and talks on activism from the Global South 27th - 31st March 2007 A Solidarity not Charity event A 5 day festival of positive empowered images of the Global South i.e. activists and communities fighting for global justice to challenge the negative portrayal in the western world of people from "developing countries" as powerless victims. There will be an exhibtion of photography from the World Social Forums in Kenya and India, documentary films about global issues showing grassroots activism from the Global South most made by Black and Asian film makers. There will also be speakers/talks every evening and a music event. Free entry but any solidarity contributions from the events and all sales of photography will go to an organisation called Habiba International a Kenyan Women's Human Rights organisation fighting against FGM and rape in remote patoral areas of Kenya, that desperately need a vehicle to rescue abused women and children and rape victims. Full list of events to come shortly on
http://www.solidaritynotcharity.org.uk
Contact: mel_alf@yahoo.co.uk
WEDNESDAY 28 MARCH
new art on the stair well
IZABELA BOCHENKO
opening night >>basement
ILLUSIONS OF DISEMPOWERMENT
A Taste of the World Social Forums in Kenya and India
Reports on and analysis of the WSF in Kenya and surrounding events that took place in January 2007 from activists that attended. Views on the future of the WSF and ways forward for global activism. Photographs of from the WSF Kenya and India on display. Films:
Foootage of the WSF in Nairobi Kenya 2007
The World Social Forum - Feminist Perspectives
(The Rosa Luxembourg Foundation, 2004) A comprehensive documentation of the World Social Forum in Mumbai India in 2004 focusing on female activism and gender issues the film also gives an overview of and captures many other issues and social movements represented at the forum.
Rumble in Mumbai
(Jawad Metni, 2004)(tbc) This film documents the World Social forum held in Mumbai, India in 2004. over 100,000 people attended the forum, all looking to build solidarity - and a better world. Featuring interviews with Shirin Ebadi, Jose Bove, and Walden Bello, as well as the eloquent speeches of Arundhati Roy, Mustafe Barghouti, Jeremy Corbyn, and Irene Khan, Rumble in Mumbai is packed with high-caliber critiqes of neo-liberalism gone awry, and damning indictments of the ill effects of globalisation. As with the forum itself, marginalized voices were given a platform here. Speakers: Firoze Manji (Fahamu), James O'Nions (Radical Activist Network), Speaker about the People's parliament in Kenya (tbc)
THURSDAY 29 MARCH
>> basement
ILLUSIONS OF DISEMPOWERMENT
Women and Human Rights, Building Global Solidarity
Fighting Female Genital Mutilation (FGM), rape and physical abuse of women and children. Films:
Beautiful as Butterflies
(Julia Landou, S Africa, 2005) about the healing preocess of four formerly abused women from poor communities through Kundalini yoga and creative arts. Three of the women are literacy learners. Its inspiring to see what they do. It breaks down stereotypes and promotes discussion around the topic of healing and abuse.
Passengers: A video journey in Gujerat
(Nooh Nizami and Akanksha Joshi, India, 2003) It's a record spanning over a year and a half, of people who have survived one of the worst failures of state machinery since the partition. And of the people who were never victims, but who chose to care for those who are. It is a record of Ahmedabad's past and present. More importantly, it is a record that needs to be set straight.
Women on the Run
(Kenya, 2005) (tbc) Speakers: Zoe (Concious Cinema) introducing the film Passengers, Pauline Ontieno-Skaper (Rainbo)(tbc), Melanie Alfonso (Solidarity Not Charity) on Habiba International
FRIDAY 30 MARCH
Communities take on Multinational Corporations
\ From Kerala to Papua New Guinea to South Africa local people are uprising against corporate power and winning. Films:
The Bitter Drink Kaippu Neeru
(26mins, P. Baburaj and C Saratchandran, India, 2003) A film on the adivasi struggle against Coca-cola in Plachimada, Kerala. The film documents the informative days of a David and Goliath battle. The people of Plachimada, the majority of them tribals, launched a struggle against one of the most powerful corporations in the world - Coca Cola.
The Coconut Revolution (Bougainville Story)
(Dom Rotheroe, 2001) This is the modern-day story of a native peoples' remarkable victory over Western Colonial power. A Pacific island rose up in arms against giant mining corporation Rio Tinto Zinc (RTZ) - and won despite a military occupation and blockade. When RTZ decided to step up production at the Panguna Mine on the island of Bougainville, they got more than they bargained for. The island's people had enough of seeing their environment ruined and being treated as pawns by RTZ.
The Orange Farm Water Crisis
(Concious Cinema) A powerful short film on the Anti-Privatisation Forum in South Africa fighting against the privatisation of water services and against the Suez a French water company. Speakers: John Hilary (Campaigns Director War on Want), Campaign Against Coca-Cola India (tbc), speaker on the Anti-Privatisation Forum (tbc)
SATURDAY 31 MARCH
Environmental Activism in the Global South
Films:
Words on Water
(Sanjay Kak, India, 2003) A film that explores the struggle of the people of the Narmada Valley against the big dams that threaten to submerge their lands and displace them from their homes, traditions and cultures. Kak's new film joins the growing filmic documentation of the struggle of the people of the Narmada Valley against the big dams that threaten to submerge their lands, displace them from their homes and slowly but surely, cut them off from their traditions and their cultures. A short documentary on the Green Belt Movement in Kenya (tbc) Footage about the Green Belt Movemnt in Kenya and its founder environmental political activist Wangari Maathai, includes footage of activist demonstrations in Kenya. Speakers: Green Belt Movement(tbc) Acoustic Music Night, Saturday 31st March: Acoustic music night after the film showings to end the festival. With performances from the amazingly talented Joseph Aquilina (Melodic, Emotive and Universal are three words used together in describing his music having been compared with the likes of Jeff Buckley and Nick Drake. See www.aquilina.co.uk) and more artists to be added shortly. A beautiful night is being lined up not to be missed!
SUNDAY 01 APRIL
8-10
WELCOME TO WORMWORLD
open mic poetry
TUESDAY 03 APRIL
open keyboard
PIANO NIGHT
>> basement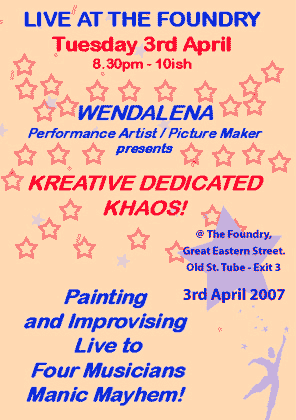 LIVE PAINTING by WENDALENA with INCIDENTAL accompaniment by Steve Moyes, Evrah and others
THURSDAY 05 APRIL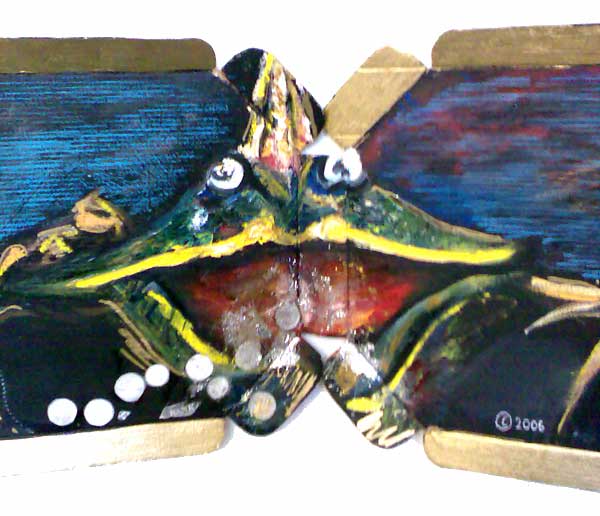 new art on the bar wall...
ARCHIE FRANKS
>>basement
OPENNED
poetry evening
http://www.openned.blogspot.com
Confirmed readers: Allen Fisher Kai Fierle-Hedrick Michael Wallace-Hadrill Frances Kruk Aaron Wells More TBA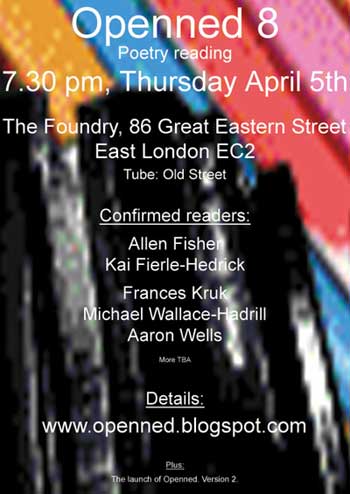 SATURDAY 07 APRIL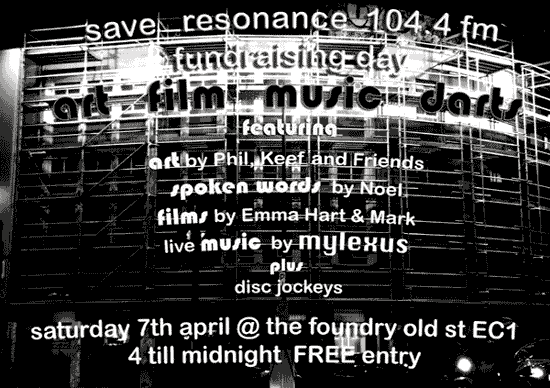 SAVE RESONANCE 104.4 FM
FUNDRAISING DAY
SUNDAY 08 APRIL
8-10
WELCOME TO WORMWORLD
open mic poetry
TUESDAY 10 APRIL
open keyboard
PIANO NIGHT
WEDNESDAY 11 APRIL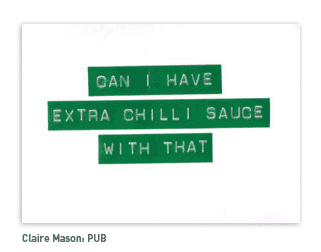 RANDOM TYPOGRAPHIC PUB QUIZ We would like you to join us to test your knowledge of all things typographic at the Random typographic pub quiz 4/5 in a team Quiz starts at 7.30pm To save a place email: pubquiz@random-project.co.uk
http://www.random-project.co.uk
http://www.flickr.com/photos/random-project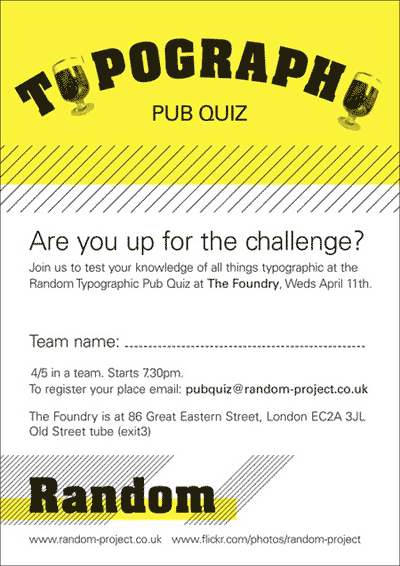 SUNDAY 15 APRIL
8-10
WELCOME TO WORMWORLD
open mic poetry hosted by
MARCUS S CARCASS
TUESDAY 17 APRIL
open keyboard
PIANO NIGHT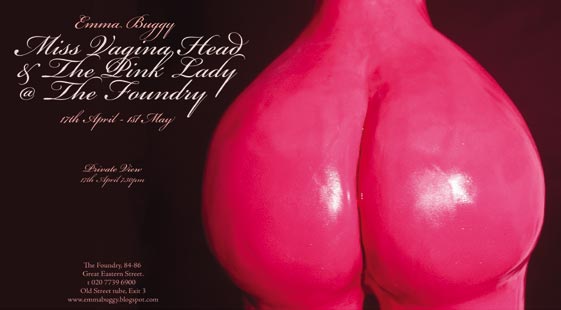 SUNDAY 22 APRIL
8-10
WELCOME TO WORMWORLD
open mic poetry
TUESDAY 24 APRIL
open keyboard
PIANO NIGHT
WEDNESDAY 25 APRIL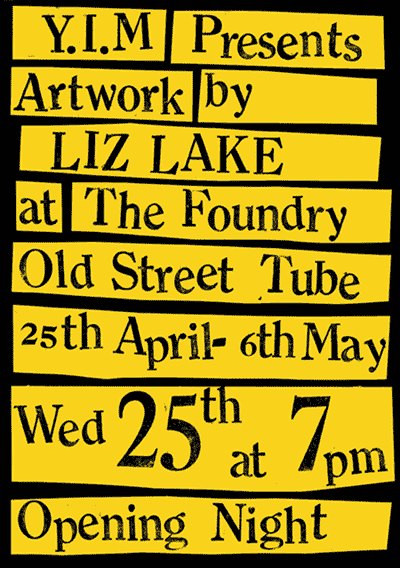 new art on the far wall
LIZ LAKE
opening night accompanied by some incidental improvisation For my exhibition i am creating a series of mixed-media screen printed postcards to cover the wall space. They are inspired by watching contact improvisation dance performances. My intention was to use improvisation to channel energy and expression into a visual form, yet also draw the viewer into the work. I have started each postcard with exactly the same initial process, then let each one individually develop, thus forming differences between them, yet also drawing them together as a whole collection. When I viewed contact improvisation dance I was drawn into the continuous series of different physical movements. This idea is what I intended to reflect in my work, yet creating it in a different medium. On the opening night, 25th April there will be improvisation dance taking place.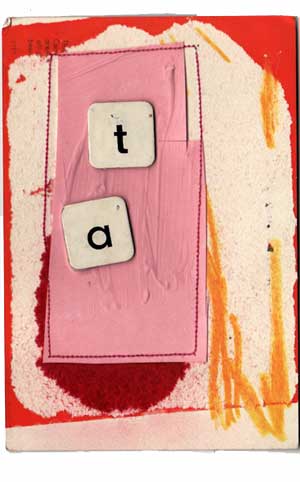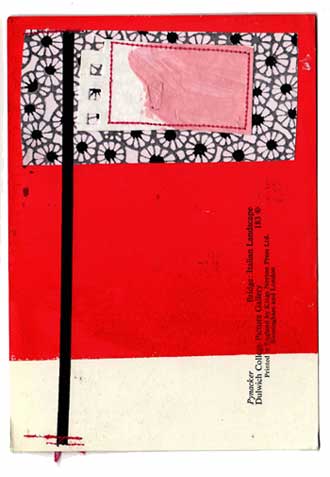 SUNDAY 29 APRIL
8-10
WELCOME TO WORMWORLD
open mic poetry hosted by
GRASSY NOEL
_ _ ...check back later for more info!
  84-86 GREAT EASTERN STREET LONDON EC2 020 7739 6900