FRIDAY 25 NOVEMBER 05
>>bar floor
MARK RATHMALL
'S random selection >>basement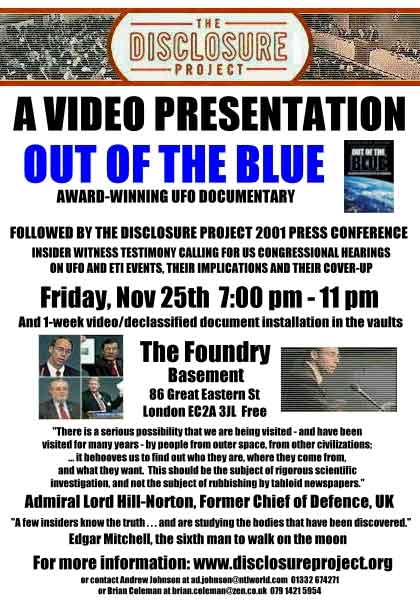 A VIDEO PRESENTATION OF
OUT OF THE BLUE
Award Winning UFO Documentary Followed by Disclosure Project 2001 Press Conference INSIDER WITNESS TESTIMONY CALLING FOR CONGRESSIONAL HEARINGS ON UFO AND ETI EVENTS, THEIR IMPLICATION AND THEIR COVER UP 7pm - 11pm AND 1 WEEK VIDEO/DECLASSIFIED DOCUMENTS INSTALLATION IN THE VAULTS "There is a serious possibility that we are being visited - and have been visited for many years - by people from outer space, from other civilizations; that it behoves us to find out who they are, where they come from, and what they want. This should be the subject of rigorous scientific investigation, and not the subject of rubbishing by tabloid newspapers" Admiral Lord Hill-Norton Former Chief of Defence Staff, UK "A few insiders know the truth . . . and are studying the bodies that have been discovered," Dr Edgar Mitchell, 6th man to walk on the moon. FOR MORE INFORMATION:
http://www.disclosureproject.org
Or contact Andrew Johnson at
ad.johnson@ntlworld.com
01332 674271 or Brian Coleman at
Brian.Coleman@zen.co.ok
079 1421 5954
SATURDAY 26 NOVEMBER 05
>>bar floor incidental music by
MARCUS
>>basement
KEEP THE PEACE
anti-war pro-peace FASHION SHOW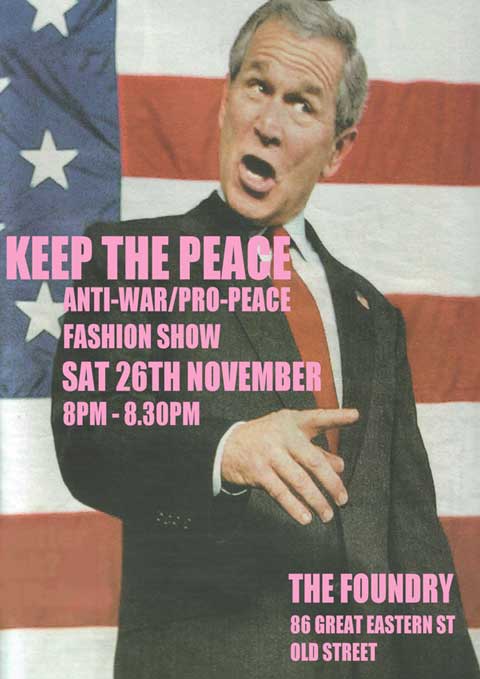 SUNDAY 27 NOVEMBER 05
8-10
WELCOME TO WORMWORLD
open mic poetry
TUESDAY 29 NOVEMBER 05
open keyboard
PIANO NIGHT
incidental music by unknown players if you have a tune you want to share, bring it and play it new art on the bar wall
RALPH HOCKLEY
Meaning, please? This exhibition is an exploration of the readers' sense and nonsense. You see a photo, it 'appears' portentous, to represent Something of Reality, but does it really - or is it all bollocks and pig's bathwater? I've gathered a series of photos that I hope will make you think about the true significance of the symbolism used and what makes an image (or indeed anything) break the limitations of the media and to resonate with you. new art in the basement sub cultural radikal arts productions present
PAULA SIGLEY
http://www.paulasigley.com
JOE PLANT
http://www.joeplant.com
JOE PUBLIC
at gallerys on
http://www.dirtysquatters.com
SCRAP KILLAR
road movies
http://www.scraptv.co.uk
/
http://www.scraprecords.com
.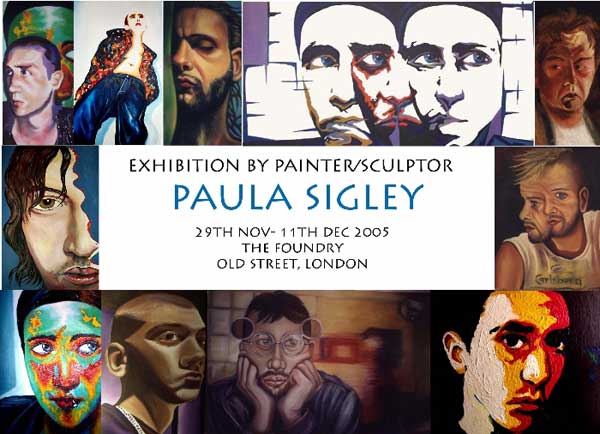 WEDNESDAY 30 NOVEMBER 05
SShhhh! New art in the vaults by
PUNKVERT
THURSDAY 01 NOVEMBER 05
REHAB PREVIEW
incidentally, by Pete Stormcrow and DanCon1 due to the new licensing law the traditional Rehab night cannot happen in the Foundry - instead Pete and Dan are kindly providing us with an INCIDENTAL BACKGROUND PREVIEW tonight
FRIDAY 02 NOVEMBER 05
'behind the beyond' incidental
Mike Walter
SUNDAY 04 DECEMBER 05
8-10
WELCOME TO WORMWORLD
open mic poetry
TUESDAY 06 NOVEMBER 05
open keyboard
PIANO NIGHT
incidental music by unknown players
WEDNESDAY 07 DECEMBER
a literary evening with
LAURA NORDER
launching her latest zine
SUNDAY 11 DECEMBER 05
8-10
WELCOME TO WORMWORLD
open mic poetry
TUESDAY 13 NOVEMBER 05
open keyboard
PIANO NIGHT
incidental music by unknown players new art in the vaults The amplified reality headset (arh) Portalists Inigo Wilkins and Adam Hobbs will present the arh in the vaults of the foundry again, from 13th Dec, demonstrating the second-generation prototype for an audio-visual recording and playback device that concerns the body's orientation in space. The arh places you in a series of affective environments that constitute a kind of time travel. Immersion is encouraged through the stimulation of the proprioceptive faculty. Opposed to the pre-designed possibilities of the corporate virtual reality headset (vrh) the amplified reality headset (arh) is an instrument for the multiplication of potential. We cannot describe the wearer of the arh as a user, for this machine is not used in the way that we can ride a bicycle for example, or, more pertinently a vrh – the arh is not a one-way utility - the words player or performer are closer, but they do little to impart the sense that you are also the subject or victim of the apparatus; in some ways you become what is called a horse in the worship of the orishas – and you are ridden by the spirit of a series of affective sensory-perceptive events that constitute a kind of possession - the act of wearing the arh catalyses a feedback mechanism where the biological participant is best described by the word vector.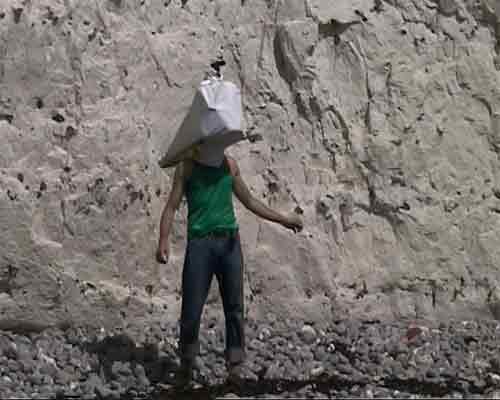 The vector, having inserted its human recording head into the helmet, will see both live and recorded images of the world about it on an LCD screen magnified by a fresnel lens to the virtual size of over a square meter and viewed at close proximity. It will hear a corresponding sequence of past and present worlds on stereo amplified headphones and also through the vibrations of a bass speaker situated beneath the vector. Planned additions to the initial prototype are a miniature camera that records the motion of the arh and its vector as they move through an environment. This information will then be projected back on to the fresh vector, bathing the parasitic couple in a ghostly trace of its time travelling interior. The foundry have given us this opportunity to use the vaults as a workshop for ten days or more, so there are a number of ideas in the pipeline which will be work in progress, such as collaborations with musicians and the possibility of using green screen and video mixer to displace the audience itself into different time-spaces. Contact portal engineers at: email: inigowilkins@yahoo.com inigo mob: 07966773638 email: motorwaymouse@yahoo.com adam mob: 07973132593 new art in the pink room
CLASH ART
13 -18 december [Clash Art] Clash Art is a newly founded group of artists, which is still growing. Although all the artists come from a different cultural background what unites them is the very fact that they share a common experience of displacement and a continuous search for their identity: national or personal. The artwork produced by these artists ranges from photography, performance, video, painting and drawing, covering in other words the whole spectrum of contemporary art. As the name implies the main goal of this group is to bring to the forefront art that is unique, defies categorisation, is contemporary and involves a discourse between the artists' works and the viewer. Clash Art aims to introduce to a wide public high quality work from all corners of the earth without any prejudice towards any ethnic or cultural groups. For Foundry, we will develop our main subjects such as cultural identity, displacement, memory and issues of globalisation by creating a live installation. This includes live paintings, drawings and video projection along with interactive performance by artists themselves. The viewer will be able to see the work develop and grow into the space.
CLASH ART MEMBERS
Eleonor Bedlow
email: elbedlow@hotmail.com My cultural background is an important aspect of my identity and my work. I am half English half Irish but spent most of my childhood in Japan. There are strong references to maps or fragmentation in my work. These are references brought into my work with a need to explore the notion of living in between cultures. I am interested in exploring both the negative aspects of cultural confusion. Evan when I am exploring subjects such as displacement there is still a sense of celebration of being able to understand more then one culture. I like to take a simple object or image and change it's status from what it would normally be in the world. Land and roads or chairs and planes tame on personalities and become characters.
Eunji Kim
email: tea@doramail.com Our dreams, our deepest emotions, our nightmares, they are going beyond a body of languages and locations. The sadness, the happiness, the coldness, the foolishness, the nothingness, the fullness, the craziness, the emptiness of my days is yours too. I see them linger, sigh, laugh, caress around me and have to portray this 'inner landscapes' of us which will be holding its hands together somewhere in this world. There are too many 'I don't knows' and we're walking on the road of tomorrows no one knows. I want to know, I want to understand, I want to see, I want to touch - you, me, him, her, us, them and yesterdays, todays and tomorrows of our times. That's why I'm here and make films.
Michael Parlamas
email: doreamon2000@yahoo.com My painting is aiming at eradicating stereotypes and elevating a superlative virtue the energy for creativity, spontaneity, playfulness and enthusiasm for life itself. I strongly believe in a global unity where there is no "mine" and "yours", but the appraisal for the beautiful and the remarkable surpassing the boundaries of every country acquiring a global recognition. I am of the opinion that in this way many problems are overcome, creativity is enhanced for the artist since he or she transcends any taboos and advances in the creation of an artistic work without any inhibitions.
WEDNESDAY 14 DECEMBER 05
new art on the bar wall
PIERRE GERARD
TALES OF THE UNKNOWN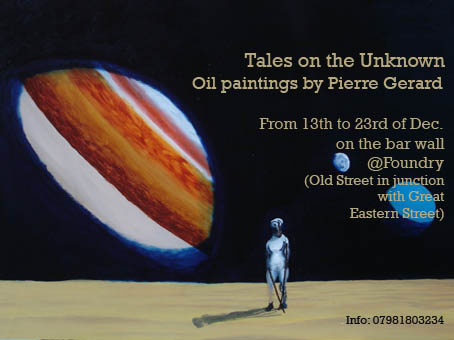 opening night with incidental music provided by the artist
SUNDAY 18 DECEMBER 05
8-10
WELCOME TO WORMWORLD
open mic poetry
TUESDAY 20 NOVEMBER 05
open keyboard
PIANO NIGHT
incidental music by unknown players
SUNDAY 25 DECEMBERR 05
closed for Christmas
TUESDAY 03 JANUARY 06
new art on the far wall
Agron Zyla Mjekiqi

new art in the basement
We all have a dis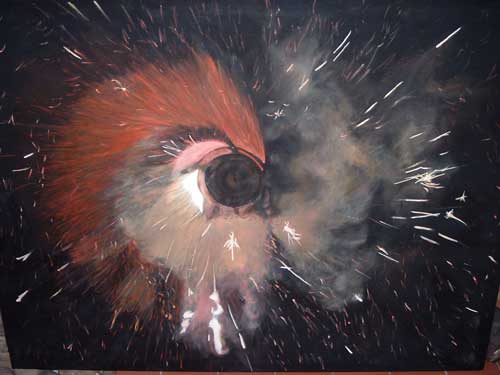 An exhibition on the theme of overcoming adversity Emma Anderson Jill Eastland Thomas Eastland John Stokoe Dan Wheale The Foundry January 3rd - January 22nd Private View - Tuesday 3rd January - 7pm disadvantage disability disenchantment dissatisfaction disqualification disparity disorganisation disorderliness disrespectfulness disturbance discomfort disarticulation discontent disconnection disarrangement discussion discordance dishevelment disarrayment disenthralment disbarment dispiritedness disillusion discovery disarmament disclaimer disengagement displacement disincentive display discomposure dislike disinclination disjointedness disconnection dislocation dissoluteness We all have a dis disagreement disgrace disclosure disregard displacement disrelish discouragement disaffection discolouring disheartenment discrimination disgust disposable disposition dishabille disparateness disorientation disfigurement dissimilitude distinction distraction dispossession disappointment dispute disenfranchisement disguise dissidence dissimilarity disquietude disreputableness disruption disobligingness. disingeniousness dissonance displeasure distaste disobedience Emma Anderson Jill Eastland Thomas Eastland John Stokoe Dan Wheale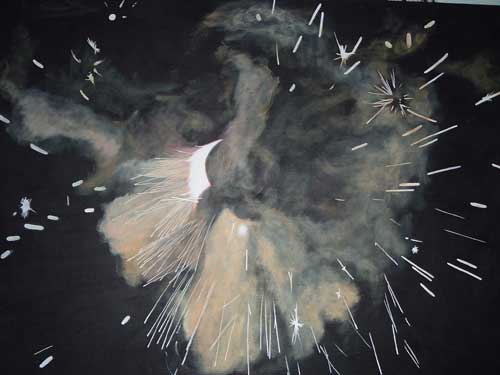 _ _ ...check back later for more info!
  84-86 GREAT EASTERN STREET LONDON EC2 020 7739 6900