TUESDAY 08 NOVEMBER 05
new art on the far wall
BEN ROGERS
new art on the stair well
DAVID O'MALLEY
VIEW FROM UNDER YOU Trilogy Paintings and Mixed Media Works comprising of "Safety in Numbers" series "Silent City" series "...Unite and Take Over" series open keyboard
PIANO NIGHT
WEDNESDAY 09 NOVEMBER 05
PAUL CATON
THURSDAY 10 NOVEMBER 05
DAVID le FLEMING
DAVID O'MALLEY
library and stair well artists opening nights with music
FRIDAY 11 NOVEMBER 05
FNUK
present one more session of funk & soul at The Foundry DJs: Sir Hector + Big Ears
SATURDAY 12 NOVEMBER 05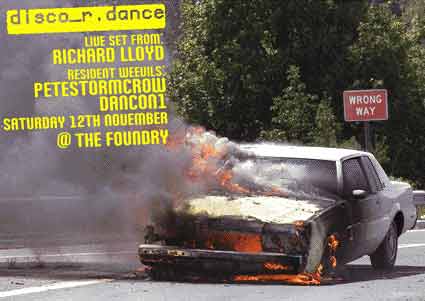 DISCORDANCE
SUNDAAY 13 NOVEMBER 05
3-8
SUPER STEREO SUNDAY SESSION
Pete Stormcrow & friends present an afternoon of relaxing moods, grooves & moogs... 8-10
WELCOME TO WORMWORLD
open mic poetry
TUESDAY 15 NOVEMBER 05
new art in the pink room
AMNON FRIEDMAN
new art on the bar wall
MANU
new art in the library
MATHEW JOHNSON
open keyboard
PIANO NIGHT
WEDNESDAY 16 NOVEMBER 05
MISS ROBERTS FLYING CABERET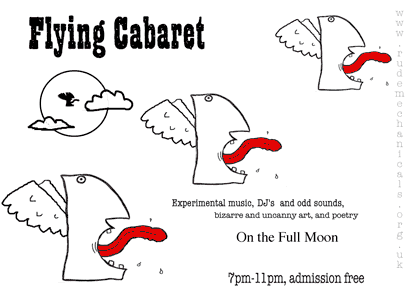 THURSDAY 17 NOVEMBER 05
MAVRYX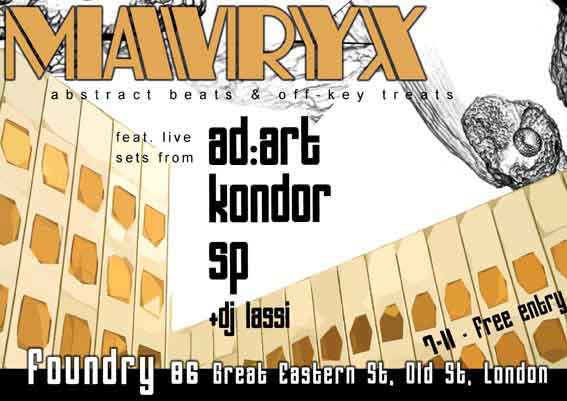 FRIDAY 18 NOVEMBER 05
DEAN
SATURDAY 19 NOVEMBER 05
CLIVE
SUNDAY 20 NOVEMBER 05
8-10
WELCOME TO WORMWORLD
open mic poetry hosted by
VIZ the SPOON
TUESDAY 22 NOVEMBER 05
new art on the stair well
LISA BROWN
new art on the far wall
JASON ROYCE
open keyboard
PIANO NIGHT
WEDNESDAY 23 NOVEMBER 05
last night before...
THURSDAY 24 NOVEMBER 05
LICENSING ACT (2003)
here is a sketch of the licensing situation as far as we understand it. We won't know what it means in practice until after the 24th Nov, but meanwhile from that date we cannot book anything in that is on the list of proscribed activities. The Foundry is NOT losing our public performance / entertainment license - under the current law we never had one and never needed one so long as we complied with (a) no more than two performers, (b) no dancing (c) free entry - which pretty much fitted with what we wanted to do anyway. The LAW is changing from 24 November, and the new Licensing Act gives the local authority (in our case Hackney Council) much more power over us and does not make any allowance at all for unregulated activities. This new law (the "Licensing Act 2003", more commonly and misleadingly referred to as the 24-hour drinking law) applies from 24 November. It replaces a number of different licenses, including the Alcohol License (which we have) and the Entertainment License (which we do not have) with a single 'flexible' Premises License. After that date we can continue with our existing LICENSED activities - i.e. selling alcohol until 11PM - but NOTHING from the following list can be done without additional permissions which we do not have and are unable to obtain (we have tried). - recorded music - live music (including karaoke) - performance of a play - showing of a film - dance - indoor sports - provision of facilities for recorded and live music That last point means that our piano, decks and PA system all become illegal objects after 24 November. It is not clear whether any form of background music will be legal without a license, and even a juke box is not necessarily going to be allowed. Poetry and art are not on the list (yet) so we can carry on with those. .. We wonder how many other small-scale venues will be in the same situation... if anyone has any more information please
write to us
. Text of the licensing act
http://www.opsi.gov.uk/acts/acts2003/20030017.htm
The bit about "Regulated Entertainment"
http://www.opsi.gov.uk/acts/acts2003/30017--k.htm#sch1
Wikepedia article
http://en.wikipedia.org/wiki/Licensing_Act_2003
More information and advisory notes from the
Department of Culture, Media and Sport...
Here's a choice quote from the DCMS website... "The 'two in a bar' rule is being discontinued. This is a disapplication under current licensing law of the need for a public entertainment licence in certain situations, such as two performers singing or, playing music, at a premises where a justices' licence is in force. The Government believes this rule in practice restricts what entertainment will be provided, creates disincentives to the presentation of more diverse musical acts and fails to protect local residents from noise nuisance. The new regime will allow musicians and other entertainers to flourish whilst providing protection against unnecessary disturbance." It's in the "regulated entertainment" section...
http://www.culture.gov.uk/alcohol_and_entertainment/licensing_act_2003/regulated_entertainment.htm
SUNDAY 27 SEPTEMBER 05
8-10
WELCOME TO WORMWORLD
open mic poetry
SUNDAY 04 DECEMBER 05
8-10
WELCOME TO WORMWORLD
open mic poetry
SUNDAY 11 DECEMBER 05
8-10
WELCOME TO WORMWORLD
open mic poetry
SUNDAY 18 DECEMBER 05
8-10
WELCOME TO WORMWORLD
open mic poetry
SUNDAY 25 DECEMBERR 05
closed for Christmas
_ _ ...check back later for more info!
  84-86 GREAT EASTERN STREET LONDON EC2 020 7739 6900