TUESDAY 04 OCTOBER 05
new art in the vaults
CHARLOTTE PLAYER
new art in the library
JAMUN
new art on the bar wall
GAZ
open keyboard
PIANO NIGHT
>>basement
ARE YOU READY FOR THE THIRD WORLD WAR?
CULTURE SHOP & DAFT DONKEYS DON'T DO DISCOS PRESENT
EXTEND YOUR FIELD OF VISION
THREE NIGHTS OF FILM TUESDAY 4 OCTOBER NOT IN MY NAME III (7PM) What are the real reasons behind the US invasion of Iraq? "Why War?" is a provocative film which throws a revealing new light on George Bush's "War on Terrorism". + THIS IS CAMP X-RAY (8.30PM) A film by David Mahoney documenting a week long fully functional internment camp art installation in the middle of Manchester. "One of the most challenging and ambitious art events to have taken piace in recent times". Manchester's City Life Magazine. UHC is a radical art and design collective.
http://www.cultureshop.org
WEDNESDAY 05 OCTOBER 05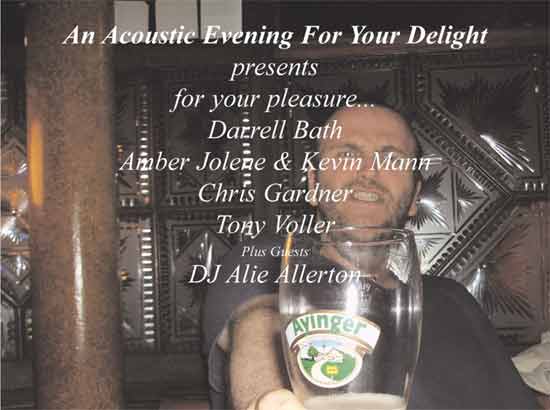 AN ACOUSTIC EVENING FOR YOUR DELIGHT
Darrell Bath
Amber Jolene & Kevin Mann
Chris Gardner
Tony Voller
Plus Guests
DJ Alie Allerton
acoustic stuff >>basement
ARE YOU READY FOR THE THIRD WORLD WAR?
CULTURE SHOP & DAFT DONKEYS DON'T DO DISCOS PRESENT
EXTEND YOUR FIELD OF VISION
THREE NIGHTS OF FILM WEDNESDAY 5 OCTOBER IN PLANE SITE (7PM) Here, live TV clips from New York TV channels on Sept. 11th 2001 and CNN official footage are reviewed, slowed down, examined frame by frame. The official story of the day was told on live TV by NY reporters, police officers and fire fighters. However, crucial footage was shown only once, ground zero was bulldozed and this TV evidence was never repeated. The stories changed, information disappeared and propaganda took the place of reality. + Speaker from the London 9/11 Truth Movement
http://www.cultureshop.org
THURSDAY 06 OCTOBER 05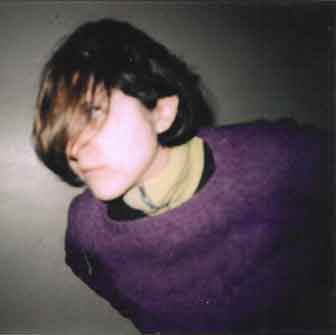 INSIDE THE BINite presents : SPACETRAVELLIN TRAILERTRASHIN LAPTOPBASHIN VISUALSFLASHIN MUSICMASHIN HELMETWEARIN SAMPLESWEARIN KICKDRUMKICKIN VERYLOUDSYNTHSONSTAGE...
MINDLOBSTER
!
http://www.mindlobster.com
VOCODER
( punk girl solo act ) electronic beats +and lo fi guitar tunes vocoderxx@hotmail.com
http://www.mollusk.splinder.com
MY DEAR KILLER
(acoustic solo act )
http://www.undermybed.org
anat ben david 8 PM UNTIL 11 PM free entry >>basement
ARE YOU READY FOR THE THIRD WORLD WAR?
CULTURE SHOP & DAFT DONKEYS DON'T DO DISCOS PRESENT
EXTEND YOUR FIELD OF VISION
THREE NIGHTS OF FILM THURSDAY 6 OCTOBER THE FOURTH WORLD WAR (7PM) The product of over two years of filming. The fourth World War is a new kind of film for a new kind of world. The intensity and immediacy of its images are beyond anything the mainstream media can shoot. It weaves together the stories of movements against empire from Palestine, Iraq. Argentina, Korea to Genoa and Quebec City. "A powerful and radical cry from the front lines of the war on people. This film captures the ancient and newborn spirit of resistance: it is as beautiful and global as humanity itself". Naomi Klein, Author 'No Logo' + THIS IS WHAT DEMOCRACY LOOKS LIKE (8.30PM) More than a film, this is a mobilizing campaign, a call to communities around the wortd to initiate dialogue about new ways to orqanise across our differences.
http://www.cultureshop.org
FRIDAY 07 OCTOBER 05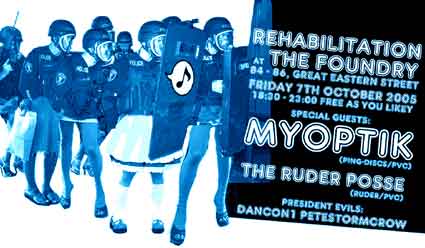 REHABILITATION
SATURDAY 08 OCTOBER 05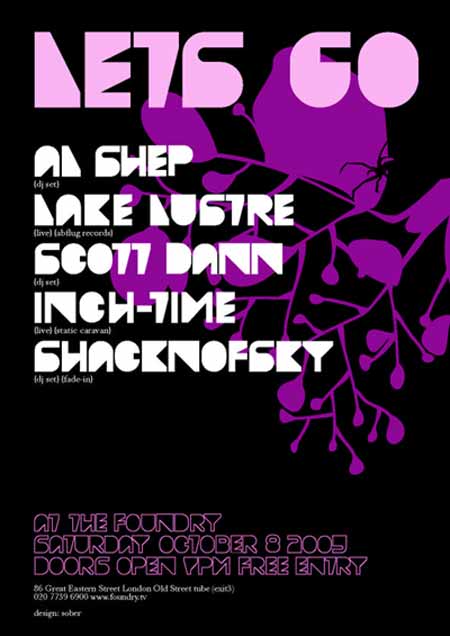 LETS GO
AL SHEP
dj set
LAKE LUSTRE
live / abflug records
http://www.lakelustre.com
SCOTT
dj set
INCH-TIME
live / static caravan
http://www.inchtime.com/
SHACKNOFSKY
dj set / fade-in >>basement
NAKED PUNCH
Issue #5 includes Michael Taussig / Samuel Hazo / Philip Lutgendorf / Suraya Sidhu Singh / Richard Shusterman / Qalandar Memon / Alphonso Lingis / Simon Glendinning / Rachel Bulla / Salvatore Settis / Timothy Secret / Antonio Pedretti / and many more Regular Naked Punch meetings start October 8th at the Foundry.
Timothy Secret
presents an immersion philosophy speech and art installation on the self visit
http://www.nakedpunch.com
for details
SUNDAY 09 OCTOBER 05
3-8
LUIGI
8-10
WELCOME TO WORMWORLD
open mic poetry
MONDAY 10 OCTOBER 05 - CLOSED
TUESDAY 11 OCTOBER 05
new art on the stair well
IAN GELLAND
new art in the basement
DAVID SHILLINGLAW
http://ww.davidshillinglaw.co.uk
new art on the far wall
KASIA
open keyboard
PIANO NIGHT
WEDNESDAY 12 OCTOBER 05
MASA 9:50pm If you want to find some related artists - Bjork, Radiohead, Nick Drake, Lou Reed maybe Damien Rice - they all could apply. Mmmmm. He is still different though. Born in Kawasaki, Japan - Masa stared writing songs at the age of 15. In the early 90's he moved to New York City. He studied at a local college but skipped classes to hang out in Greenwich Village looking for art and music of his taste. In 1996 he moved to London and launched himself into Surprise Cafe Gigs! He asked the cafe manager to stop the music, stood up in the middle of the customers and sang his song. A Brave move that was rewarded one special day with free carrot cake. To see Masa live is a truly great experience; his versatile voice and mixed tempo acoustic beats are highly infectious
http://www.masa-iida.com
Adrian r Teenbeat 9:10pm "The Teenbeat formed in Liverpool in the mid-199os, and are led by Adrian Shaw a dryly amusing fellow often seen rattling the perimeter fence of the London conceptual-art scene. The band record in vast, incoherent jams, then cherry-pick the best bits, which suggest Alan Bennett fronting the Velvet Underground, or George Formby singing Hank Williams. With a little spit and polish, they could be as quirky a commercial proposition as Pulp once were, but one suspects The Teenbeat are reluctant to spoil something secretly special. This best of collection has 62 songs on three discs and costs £12.99 from
http://www.sickhappyidle.com
." **** out of five Stewart Lee - The Sunday Times, July 24th 2005
http://www.timesonline.co.uk/newspaper/0,,2774-1701116,00.html
The Bleeding Radiators 8:30pm The bleeding radiators formed after a lifelong quest to find spiritual enligtenemnet was ended by a quick search on google using rude words. Formed from an unlikely meeting of two minds, clasically trained pianist Oliver Meadowcroft and reformed car thief Joe Cribbin, the bleeding radiators attempt to push the envelope by folding it more than 8 times. They Receive no information, question nothing, accept their fate, negate, rise in opposition while abandoning all caution. Stripped of the crutch of narcotics they deliver a unique blend of blues, folk, soul and mildly disturbing observations on life as it collapses all around them. T.H.Kyosuke 7:40pm Born in1961, Okayama, Japan. Graduated Osaka University, Economics BA When Kyoske was 3years old, he started learning piano. He was influenced film music in his childhood, then his interest moved to Progressive Rock, Contemporary, Folk, and Free Jazz.. He started multi-recording in 1985. Between 1989 and 1993, he composed lots of pieces of music and supplied them to exhibitions with a print artist, for a fashion show, TV dramas and for independent films. Kyoske moved to Brighton in 1993. In 1994, he supplied his products for documentary films for CHANNEL 4 and he appeared in concerts of Brighton Festivals in 1995,1996. He moved to London in 1998 and since then he concentrated on creating his own music. In 2002, Kyoske issued his first CD titled TREE OF DEATH. In 2004, he organised keydoard duo called HELENA, which is now a band, MACO. DJ. G.G (a famous canadian pianist ) 7:00pm DJ. S.G (a french icon) 10:40pm
THURSDAY 13 OCTOBER 05
MAVRYX
KONDOR
AD:ART
ISNAJ DUI
DJ GARY PARSELLE
FRIDAY 14 OCTOBER 05
AALVA PARK
with
JON NEALE
(acoustic set)
SATURDAY 15 OCTOBER 05
ENVELOPE
http://www.nvelope.net
SUNDAY 16 OCTOBER 05
3-8
PETER
8-10
WELCOME TO WORMWORLD
open mic poetry
MONDAY 17 OCTOBER 05 - CLOSED
TUESDAY 18 OCTOBER 05
new art in the pink room
ALEX
and
MIRANDA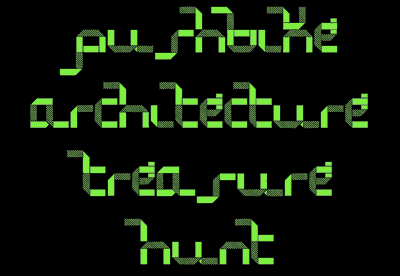 new art on the bar wall
JUNKO
new art in the library
ASTRID KIRCHNER
new art in the vaults
DISINFORMATION
NATIONAL GRID
Live electromagnetic sound installation "Pulsing sub-bass audio suggests associations with the most primal anthropomorphic element in music - the rhythms of the human heart, with foetal and infant hypnagogic sense memories, with seismic activity, the rumble of thunder (Jimi Hendrix claimed that his earliest childhood memory was of a thunderstorm) and even with war. Disinformation's National Grid is a sub-bass installation sourced either from the ambient VLF field radiated by electricity pylons and mains circuits, or, more recently, directly from the output cables of mains transformers. National Grid offers live physical evidence of environmental electromagnetic pollution, a demonstration of the intrinsic musical properties of alternating current, beat-frequency effects, the architectural acoustics of its own exhibition space, a formula for the realisation and suppression of Futurist sound art, a cathartic response to the pressures of urban life, a monolithic soundtrack for the genius of electrification and for the bitter conflicts between government and organised labour for control over the nation's electrical infrastructure." - Disinformation "National Grid" Ash 3.2 LP 1996 "Or, rather: that man is called "I" and you know nothing else about him, just as the station is called only "station" and beyond it there exists nothing except the unanswered signals of a telephone ringing in a dark room in a distant city." - Italo Calvino, Turin 1979 "The city nears, my body crackles, I hear eruptions at the base of my skull." - Ludwig Meidner, Leipzig 1918 open keyboard
PIANO NIGHT
THURSDAY 20 OCTOBER 05
AMNESTY INTERNATIONAL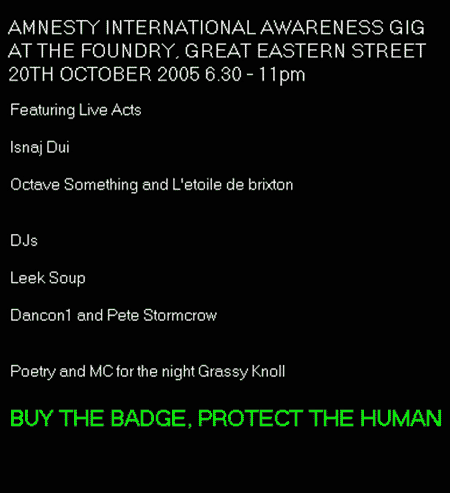 New art in the library
ASTRID KIRCHNER
all londoners live in a tube map
ever wondered what greenford looks like, or totteridge & whetstone? what about southfield, boston manor or becontree? how well do you really know the city you live in, or are you merely navigating your way around london using the tube map to keep your bearings? apart from overcrowded tourist sites what does london have to offer?
this project is a simple encouragement to be a tourist in your own city: to discover something new, challenge your routine of moving through london and to experience a different part of the city you live in.
step one:
look at the tubemap and pick a station you have never been to.
step two:
take a camera, get on the tube and make your way to your station of choice.
step three:
alight at the tubestation and begin your discovery of the area around your station of choice (don't just take a picture of the station). make it a fun day out and let the world be part of it.
step four:
upload your pictures onto www.tubemap.org and see the network grow.
the idea goes further: leading on from the interactive web-based map the aim is to transform this into an exhibition - a walkable space including the best submitted pictures, culminating in a cartographic installation of london and all the components the city is made of.
PARTIALLY LONDON
The exhibition is part of the "Living In A Tubmap" project encouraging Londoner's to become tourists in London (
http://www.tubemap.org
). Using the tubemap as a referencing system the aim is to discover places one has never been to in order to learn more about the city and to challenge perceptions of different areas. The exhibition is a selection of photographs/texts submitted to the project.
FRIDAY 21 OCTOBER 05
FNUK
SATURDAY 22 OCTOBER 05
ARTEMIS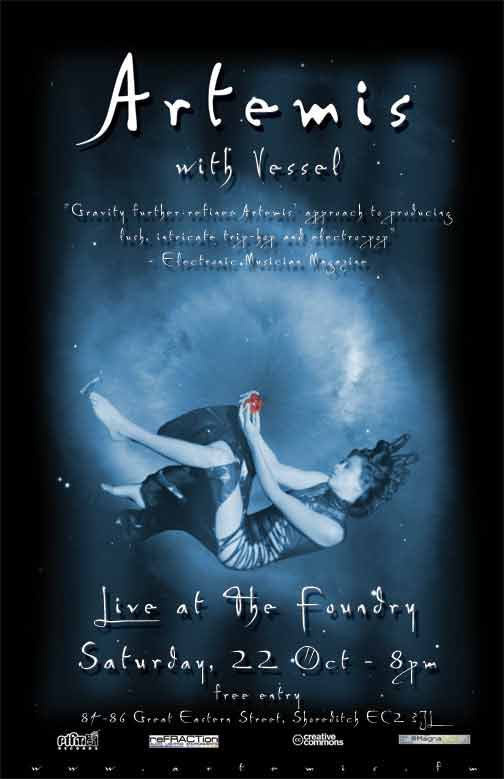 SUNDAY 23 OCTOBER 05
8-10
WELCOME TO WORMWORLD
open mic poetry presented by
ANT THE RANT
MONDAY 24 OCTOBER 05 - CLOSED
TUESDAY 25 OCTOBER 05
new art on the far wall
JESSICA MILLER
open keyboard
PIANO NIGHT
WEDNESDAY 26 OCTOBER 05
HACKNEY ARTISTS
performance night
THURSDAY 27 OCTOBER 05
JESSICA MILLER
opening performance night
FRIDAY 28 OCTOBER 05
FRANKO B
and
DJ WEAVE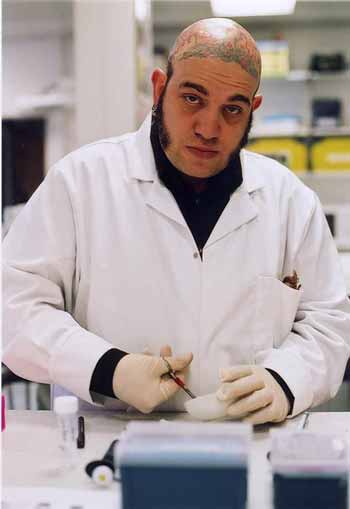 SUNDAY 30 OCTOBER 05
8-10
WELCOME TO WORMWORLD
open mic poetry
MONDAY 31 OCTOBER 05 - CLOSED
TUESDAY 01 NOVEMBER 05
new art in the library
DAVID
open keyboard
PIANO NIGHT
>>basement
MATTIN
WEDNESDAY 02 NOVEMBER 05
FAST FREDDIE FOURIER
>>basement
EVRAH
THURSDAY 03 NOVEMBER 05
THE BACK OF THE BUCKET
FRIDAY 04 NOVEMBER 05
REHABILITATION
SUNDAY 06 NOVEMBER 05
8-10
WELCOME TO WORMWORLD
open mic poetry
MONDAY 07 NOVEMBER 05 - CLOSED
TUESDAY 08 NOVEMBER 05
new art on the far wall
BEN ROGERS
open keyboard
PIANO NIGHT
WEDNESDAY 09 NOVEMBER 05
PAUL CATON
_ _ ...check back later for more info!
  84-86 GREAT EASTERN STREET LONDON EC2 020 7739 6900