SATURDAY 26 MARCH 05
LUMINOUS FRENZY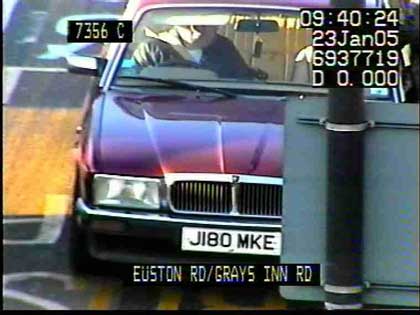 Subject was under surveillance and photographed at Kings Cross station. We believe that subject and his DJ partner will be DJ'ing tomorrow. We intend to raid The Foundry and arrest them for playing repetitive beats. Also photograph any "associates" of subjects and add them to our list of undesirables.
MI5 Internal affairs
Luminous Frenzy Ltd
www.luminousfrenzy.com
www.frankfrenzy.com
Directors: Louise Wallis Frank Hutson >>basement

OLIGARCH SHIT TRANSFUSION
SLAKES - " " (sic) Goldie (stereotaxic\drums\voice\amp) + Dan Beban (guitar) Mark Sanders (drums)+ John Coxon (guitar) Caroline Kraabel (saxophone)
SUNDAY 27 MARCH 05
3-8
CHRISTIAN DAVIES
Abba to Zappa & beyond ... 8-10
WELCOME TO WORMWORLD
open mic poetry >>basement

OLIGARCH SHIT TRANSFUSION
John Butcher (saxophones) + AMM's Eddie Prevost (drums) " " (sic) Goldie (stereotaxic\drums) + John Edwards (double bass)
TUESDAY 29 MARCH 05
open keyboard
PIANO NIGHT
new art on the far wall
JAY RECHSTEINER
THE WASHROOM WALL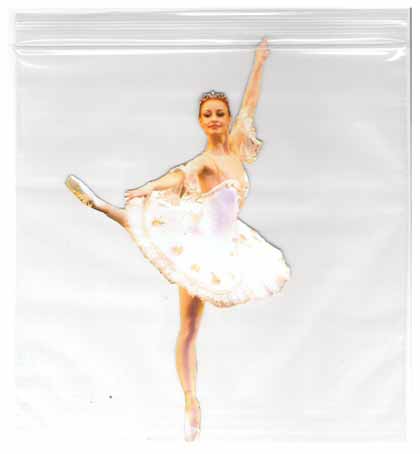 The Washroom Wall is part of The Washroom Projects TWP. It is a wall installation consisting of photos, drawings, fragments of paintings, texts, video stills, bits of posters, receipts etc. in
zip lock bags
attached onto the wall. A washroom wall is part of an intimate space that allows you to leave your marks, your message to the public. It is a space which can be used as a personal forum where people communicate with each other in a very special way. The collection of all sorts of images and texts brings hundreds of languages, hundreds of opinions, hundreds of ideas to one piece of work: The Washroom Wall. Storing art in zip lock bags is keeping it clean, untouchable and sterile. The observer cannot smell or touch the work. There is a fine but strong line between the art and the observer. There is no communication. It is the end of art and the beginning of commercialism and trendism. The Washroom Wall is my response to the current and rather superficial world in which we only live to cause problems to each other and escape into materialism and shopping. The Washroom Collective is doing a spontanious on-the-spot-performance during the opening.
WEDNESDAY 30 MARCH 05
>>bar floor
KAY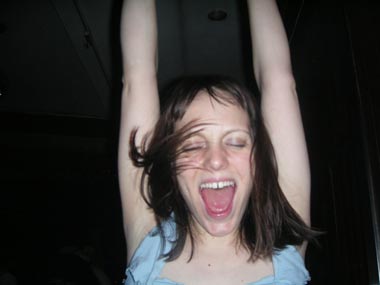 dancing 'At last an original voice'- melody makers mark 'Simply the best' - Tina Tuner Avant electronica with a melodic feel. Take new music, add a dash of magic and boom.... anything can happen... In New Music We Trust Fuck corporate strategy, Fuck five year plans Live music, chilled vibe, pleasant atmosphere and beer! What are you waiting for? Get down to the Foundry Now! To hear some of Kay's songs and see the trailer for new independent movie Bird in the Sky please go to
http://www.birdinthesky.com
>>basement forestbrook presents
THE FOUNDRY EFFECT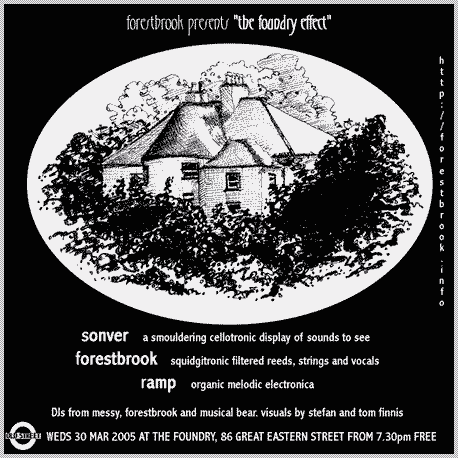 http://forestbrook.info/
THURSDAY 31 MARCH 05
>> bar floor
marcus
>> basement
ICH FICK DICH IM OHR
an audio-visual-performance-thing
FRIDAY 1 APRIL 05
REHABILITATION
LAW and AUDER >>basement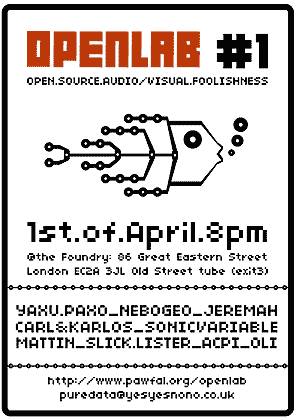 OPENLAB#01
open.source.audio/visual.foolishness
http://www.pawfal.org/openlab
SATURDAY 02 APRIL 05
BINGLYBONGLY
>>basement
JOHN CALLAGHAN
and friends
SUNDAY 03 MARCH 05
7-8
THE BARE LEG CLUB
8-10
WELCOME TO WORMWORLD
open mic poetry
MONDAY 04 APRIL 05 - CLOSED
TUESDAY 05 APRIL 05
new art by kat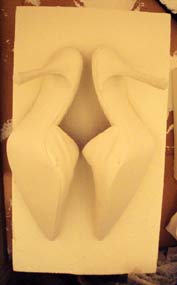 open keyboard
PIANO NIGHT
WEDNESDAY 06 APRIL 05
[searching...]
THURSDAY 07 APRIL 05
david o'mally of r3mote presents the
OFFICER'S MESS
an eclectic evening of dark postpunk / electro/nowave/techno eighties indie/machine funk amongst other various delights
http://www.r3mote.com
FRIDAY 08 APRIL 05
MICHELE
SATURDAY 09 APRIL 05
NORMAL
SUNDAY 10 APRIL 05
8-10
WELCOME TO WORMWORLD
open mic poetry
MONDAY 11 APRIL 05 - CLOSED
TUESDAY 12 APRIL 05
open keyboard
PIANO NIGHT
WEDNESDAY 13 APRIL 05
DISCO-R.DANCE
THURSDAY 14 APRIL 05
ad:art
-
kondor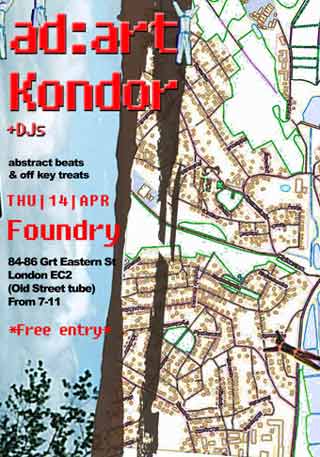 An electronic night with two artists using laptops and gadgets (Kondor + ad:art). Beats/clicks/soundscapes and melodies preceeded and followed by DJs. first DJ may start as early as 6.30 with the performances being between 8 and 10.
SATURDAY 16 APRIL 05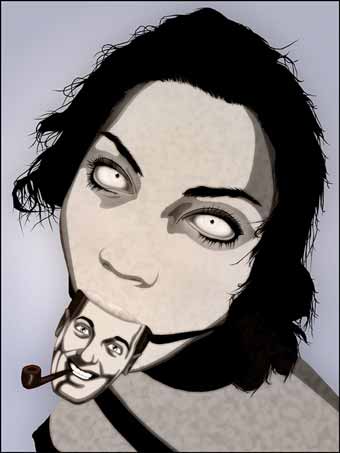 THE CHURCH OF THE SUBGENIUS
presents a sinister cult 'open evening'.... Drink cool aid,hear the word of BOB, and mingle with cult members...
POPE DAVID LEE BLACK
- Hellfire BOB preacher BANNED from the U.S!
LEEEEVIL [live]
- Penis Scratching one-man-boy-band underdog anti-musick
http://www.mynameisleeeevilbitch.com
FIGHTING COCKS SOUNDSYSTEM
- Gypsy gangsta soundtracks with weapons
http://www.f-cocks.demon.co.uk
KARAOKE DOMINATRIX
-Get spanked to the tunes of 'The final countdown....' plus Superstar international DJs
Asa and Espira
[who wear hats and have jobs and are happier than you and me]
SUNDAY 17 APRIL 05
3-8
SLOW SOUND SYSTEM
The slow sound system explores ambient listening, new electronica and pixel manipulation. This month we showcase new sounds from the Southern hemisphere. John Chantler's delicate electro-acoustic avant-guitar and laptop excursions reach us from Brisbane, via rural Japan and Tulse Hill. Fellow Oz expat Function aka Matt Nicholson lays down mesmerizing psych-pop, microsonics and deep, sleepy drones. Resident djs iMax and Albert back up with digitals and soundscaping, plus we have digital artworks and flash workouts from Janek Ropinsky. Full details follow. ------ ARTIST BIOS John Chantler (Fat Cat / Room40 / Piehead / Hello Square) (aus/uk) : non-place guitar, drums + laptop excursions John Chantler is an exciting talent. Resident of Brisbane, rural Japan and now South London, John has developed his sound from organic electronics to his current interests in exploratory electro-acoustics, messy guitars and a loose spin on rhythm. John's acclaimed first album, Monoke was released on Lawrence English's Room40 label in 2002. He's kept busy since then, with a limited edition album on Piehead, Locked in Hands, curating a series of 10" vinyl for Room40, an online release for Fat Cat (recorded with Japanese artists Saya, Takashi Ueno and Koji Shibuya) and the beyond-underground 'Swedish Folksong Project'. John's performed alongside Mum, Janek Schaefer, DJ Olive, Ami Yoshida and Taku Sugimoto. Just back from another Japanese trip, he also spins a mix of psych-pop, electronica and krautrock at Waiting for the Picture Bus, a bi-weekly session at Escape in Herne Hill. 'Melody on hammered strings . robust and driven' THE WIRE 'Monoke is the first in a series of essential recordings' THE MILK FACTORY 'Intelligent and subtle . maybe think Tortoise jamming with the Black Dog?' SMALLFISH 'Nice slice of post-millennial electronica' PITCHFORKMEDIA 'Utterly absorbing and resonant work' FIRST PAST THE POST ------ Function / Matt Nicholson (Fat Cat / Hello Square / Wonderground / Love & Mercy) (aus / uk) : mutant pop, microsonics + sleepy drone Function is Matt Nicholson and an ever-shifting set of collaborators in London, Melbourne and spaces in between. Function's sound is equally hard to pin down, taking in ecstatic pop, microscopic soundwork, slices of orchestral instrumentation and deep Eastern drones. Key reference points include The Books, Ekkehard Ehlers, Fennesz, Pluramon, Philip Jeck, Sufjan Stevens, Susumu Yokota, Rafael Toral or Town & Country. Another busy artist - expect an online release for FatCat very shortly - Matt has assembled 10 hours of soundtracks for the sacred art suites of Advaitayana Buddhist Master Adi Da . for us he will be performing new material solo, including manipulated improvisation of various acoustic sources and field recordings culled from all over the globe. Expect mesmerising, heartfelt, subtly orchestrated electro-acoustic collage. 'One of this year's most intriguing releases . an ambition to make something entirely new out of a very tired form' THE DEEP END, ABC 'The finest album to emerge from Australia this year. .this is magical music, hot shit, serious, suffocating and sparse, and aesthetically exquisite.' ADEQUACY.NET 'A stunning masterwork of intriguing musical delights' MONO.NET 'A subtle eclectic expansive epic' SCENE RESIDENTS iMax, Albert (Grain Of Sound, 8Bitrecs, KabukiKore) (uk/fr) : decks + FX Janek Ropinsky (Hardman Bros, Pop-Up Recs) (d) : flashwerks, digital sublime info@slowsound.net
http://www.slowsound.net
CHECK
http://www.inventingzero.net
http://www.functionensemble.com
http://www.room40.org
http://www.kabukikore.net
http://www.8bitrecs.com
http://www.hardmanbros.com
http://www.jayropinsky.kliklak.net
8-10
WELCOME TO WORMWORLD
open mic poetry
MONDAY 18 APRIL 05 - CLOSED
TUESDAY 19 APRIL 05
open keyboard
PIANO NIGHT
WEDNESDAY 20 APRIL 05
SAM STOCKER
bar wall artist - opening night
THURSDAY 21 APRIL 05
MICHAEL BUCKNELL
SATURDAY 23 APRIL 05
LOADED KNIFE
SUNDAY 24 APRIL 05
3-8
LIZARD LOUNGE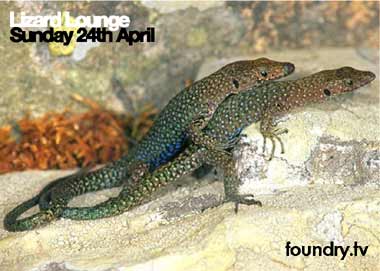 8-10
WELCOME TO WORMWORLD
open mic poetry
MONDAY 25 APRIL 05 - CLOSED
TUESDAY 26 APRIL 05
open keyboard
PIANO NIGHT
WEDNESDAY 27 APRIL 05
THE MORES
THURSDAY 28 APRIL 05
PHIL DEEPJOY and FLUX
an experiment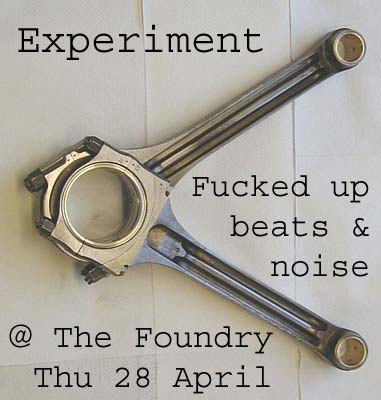 FRIDAY 29 APRIL 05
TODAYS DESTINYS With
DJ MICRONAUGHT
Playing Viable Sounds to Move & Grove
SATURDAY 30 APRIL 05
CLIVE
SUNDAY 01 MAY 05
7-8
THE BARE LEG CLUB
8-10
WELCOME TO WORMWORLD
open mic poetry
TUEDAY 03 MAY 05
new art in the basement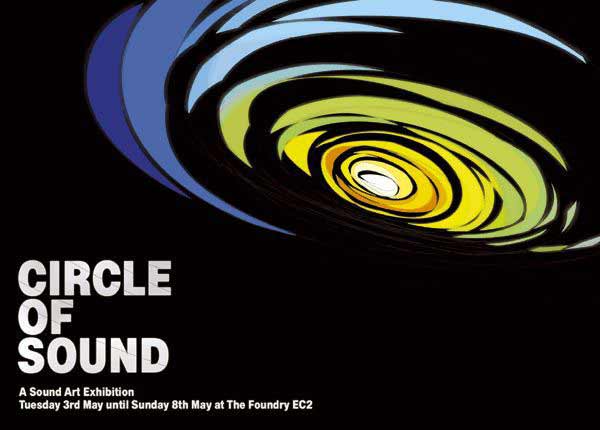 CIRCLE OF SOUND
a Sound Art Exhibition Circle of Sound focuses on Recycled sound: bringing together found sounds, sonic artefacts and reworked and recontextualised art works. The exhibition simultaneously celebrates the fleeting and fragmentary effects of sound while exploring the unfolding processes of signification within a sonic culture that has for too long been subservient to visual-centred art discourse. Curated by Magz Hall and Jim Backhouse Featuring Jim Backhouse - Telepalepatelepalepalepathy Disinformation - Theopany + Rorschah Audio Iris Garrelfs - Dumplinks Sharon Gal and Moshi Honen - The Solipsist Magz Hall - Brighton Rocks + Fear of Death Kaffe Mathews - Red Chair Tracey Moberly (nee Sanders-Wood) - Francis Theakston (1933) Jason Synott - Hearing Aid Radio Dan Wilson - Phase Violations Upon Boxful of Disappointment DJ Wrongspeed - 'I love you' All the artists in this exhibition produce programmes as volunteers on London's community arts radio station, Resonance 104.4 FM, which celebrates its third year on air 1st May 2005. Further info at
http://www.youarehear.co.uk
http://www.foundry.tv
http://www.resonancefm.com
Runs till Sunday 8 May Tuesday -Friday 7PM - 11PM Saturday Sunday 3PM - 11PM
THURSDAY 12 MAY 05
FRANKO B
and
DJ WEAVE
Franko B has recently been DJ-ing at gigs in Milan and around London. He hosts an irregular club night called MIX UP at the Great Eastern Hotel, in London's East End. He plays electro, / tecno beat franko b will be playng with very special guest DJ Weave on the 12 may 2005 from 7 pm to 11pm Franko B is best known as a performance artist but has also been developing a body of work that includes painting and sculpture. His performance work deals with the vulnerability of the human body and the beauty that is bound up with its inner frailty. Using the detritus of society, his sculpture is based on a different, external, relationship with the world. Always using found objects, Franko B's sculpture is personalised either with his own blood or with paint, establishing relationships in the work that create a non-specific narrative. Franko B was born in Milan and has lived in London since1979. He has been creating work across video, photography, performance, painting, installation, sculpture and mixed media since 1990. He has performed at Tate Modern, the ICA, South London Gallery and Beaconsfield. He has presented work internationally, including in Zagreb, Mexico City, Milan, Amsterdam, Antwerp, Copenhagen, Madrid and Vienna, and most recently at London's Great Eastern Hotel, and Tate Liverpool . Franko B lectures widely, including at DasArt, New York University and the Courtauld Institute of Art. He has been the subject of two monographs, Franko B (Black Dog Publishing 1998) and Oh Lover Boy (2001) and has published a photographic project entitled Still Life (2003).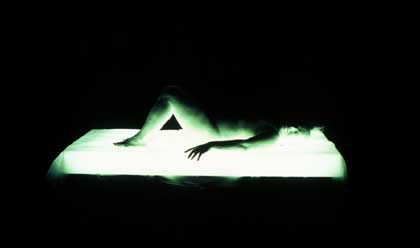 http://www.franko-b.com
WEDNESDAY 25 MAY 05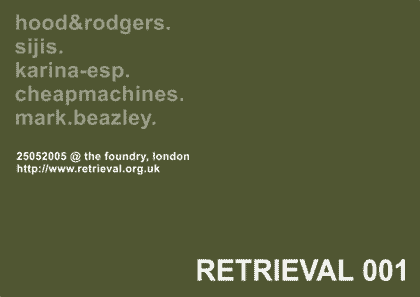 RETRIEVAL
An evening of live esoteric audio featuring improvising duo Hood %amp; Rodgers, avant electronica courtesy of the Sijis label, collaborative drones from Karina-ESP and Cheapmachines and a DJ set from Rothko's Mark Beazley.
http://www.retrieval.org.uk
_ _ ...check back later for more info!
  84-86 GREAT EASTERN STREET LONDON EC2 020 7739 6900