TUESDAY 02 03 04
Piano night - open keyboard, bring a tune and play it (every tuesday)
FRIDAY 05 03 04
Law & Auder Records presents R E H A B I L I T A T I O N electronica night Live_ BEDOUIN ASCENT BIEN Residents Djs_ Dancon1 & StormCrow
"...like popping to your local - just a better local with great music..."
E: info@lawandauder.co.uk
Saturday 06 03 04
the RETURN of the POPE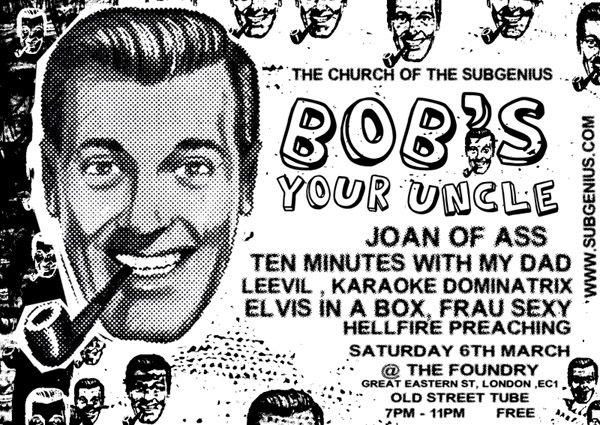 The Church of Subgenius presents BOB'S YOUR UNCLE JOAN OF ASS .... LIVE TEN MINUTES WITH MY DAD ..... LIVE LEEVIL ...... LIVE SUBGENIUS PREACHERS KARAOKE DOMINATRIX ELVIS IN A BOX FRAU SEXY plus! all you can eat Chickin, Badger and Ewok.
http://www.subgenius.com
[Eternal salvation... or triple your money back!!]
Sunday 07 03 04
>>bar floor 3-7 / LUIGI ambient tunes from italy 7-8 / NANCY Live! Pop! they make sound of future playground for bad punk boys and girl. It's good! for you. // INTERLUDE with ANTHONY BAILEY 8.00-10 WELCOME TO WORMWORLD open mic poetry bring one!
_ _ ...check back later for more info!
  84-86 GREAT EASTERN STREET LONDON EC2 020 7739 6900